AV-18 AVZ Sanitary Rotary Lobe Pumps
Application:
AVZ Series sanitary lobe pumps are used in a variety of industries including food, beverage, pharmaceutical, chemical, and biotechnology. They offer superb sanitary qualities, high efficiency, reliability, corrosion resistance, and good clean-in-place and sterilize-in-place (CIP/SIP) characteristics.
Dairy: milk, cream, curds, butter, soft cheese, yogurt, margarine, ice cream.
Bakery: yeast, dough, fruit filling, icing, fats and oils.
Meats: sausage filling, fats, broths, gelatins, pet food.
Canned Foods: potato salad, baby food, soups stews, tomatoes, relishes, pudding.
Beverage: beer, mash, wort, fruit juices, fruit concentrate.
Candy: sugars, chocolate, cocoa butter, com syrup, gelatin.
Flavorings: syrups and concentrates.
Cosmetics: creams, lotions, jellies, shampoos, emulsions, toothpaste.
Standard Design:
AVZ pumps offer a variety of lobe options including single, bi-wing, and tri-lobe. Rotary lobe pumps are non-contacting and have large pumping chambers, allowing them to handle solids such as cherries or olives without damage. They are also used to handle slurries, pastes, and a wide variety of other liquids. If wetted, they offer self-priming performance. A gentle pumping action minimizes product degradation. They also offer reversible flows and can operate dry for long periods of time. Flow is relatively independent of changes in process pressure, so output is constant and continuous. Rotary lobe pumps range from industrial designs to sanitary designs. The sanitary designs break down further depending on the service and specific sanitary requirements.
Flow Chart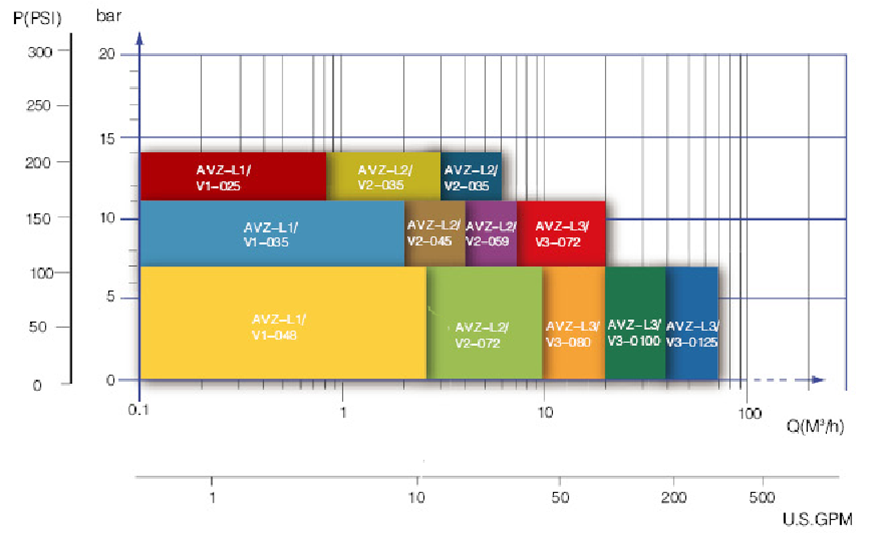 Frequency: 50 Hz
Revolution: 3000 rpm
Materials:
Product wetted: SS 316L/304, Others SS 304
Gasket: EPDM
Mechanical seal: SIC/SIC/EPDM
Internal surface finish: Ra 32 µin
External surface finish: Mirror polish
Options:
Mechanical seal: SIC/SIC/EPDM/TC/TC/EPDM
Flushed single or double mechanical seal
Gasket: FPM (Viton), NBR, PTFE
Pressure relief valve available internal or external.
Surface heat jacket; complete heat jacket.
Horizontal or vertical series.
Different drives and devices 1),Manual adjustment, continuously variable transmission 2),Variable - frequency motor adjustment 3),Fixed speed output transmission
Connection: Clamp, thread, butt-weld, flange, etc.
With stainless steel base plate & adjustable feet
Motor type B5, motor frequency 50Hz, 60Hz
Voltage (V) 220-240, 360-400, 420-460, 630-690.
Technical Specification:
Maximum Flow Rate: 90 m³/h, 395 GPM
Maximum pressure: 174psi, 12bar.
Maximum working temperature: 302 degree F
Maximum Revolution: 1450 RPM.
Design Features:
Horizontal Type & Vertical Type
Variety of lobe Options: single, bi-wing, and tri-lobe.
Pass medium solids
Superior CIP/SIP capabilities
Long term dry run (with lubrication to seals)
Hygienic design
Working Principle:


Lobe pumps are similar to external gear pumps in operation in that fluid flows around the interior of the casing. Unlike external gear pumps, however, the lobes do not make contact. Lobe contact is prevented by external timing gears located in the gearbox. Pump shaft support bearings are located in the gearbox, and since the bearings are out of the pumped liquid, pressure is limited by bearing location and shaft deflection.
1. As the lobes come out of mesh, they create expanding volume on the inlet side of the pump. Liquid flows into the cavity and is trapped by the lobes as they rotate.
2. Liquid travels around the interior of the casing in the pockets between the lobes and the casing -- it does not pass between the lobes.
3. Finally, the meshing of the lobes forces liquid through the outlet port under pressure.
Lobe pumps are frequently used in food applications because they handle solids without damaging the product. Particle size pumped can be much larger in lobe pumps than in other PD types. Since the lobes do not make contact, and clearances are not as close as in other PD pumps, this design handles low viscosity liquids with diminished performance. Loading characteristics are not as good as other designs, and suction ability is low. High-viscosity liquids require reduced speeds to achieve satisfactory performance. Reductions of 25% of rated speed and lower are common with high-viscosity liquids.
AVZ-L/0000 Horizontal Series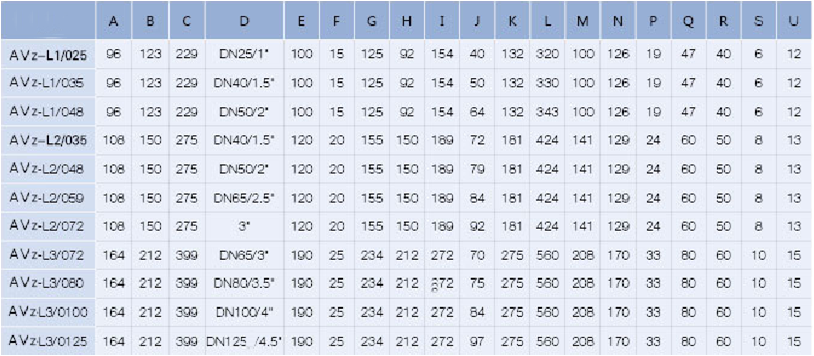 Note: Sizes are in mm

AVZ-V/0000 Vertical Series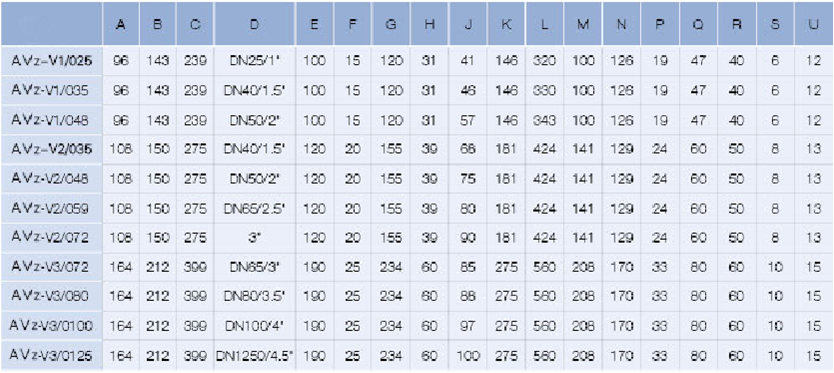 AVZ Seires List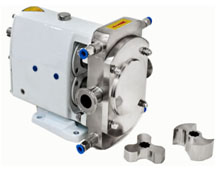 1. AVZ-HJ Sanitary Lobe Pump with Heat Jacket
AVZ-HJ Series is widely used for transporting chocolate, candy and gum, materials which will solidify at room temperature or perish at a high temperature.
Heat jacket can be equipped at the front cover or around the pump according to processing requirements.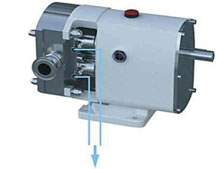 2. AVZ-WC Sanitary Lobe Pump with Water-cooled Mechanical Seal
AVZ-WC Series is designed for continued operation with high temperature and high viscosity materials. It is a perfect choice for working with occasional liquids intermission, but do make sure to keep the cooling water circulating.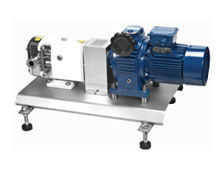 3. AVZ-EP Sanitary Lobe Pump with Explosion-proof Motor
AVZ-EP comes with a manual adjustable gearbox, the speed can be manually adjusted by hand wheel in the gearbox.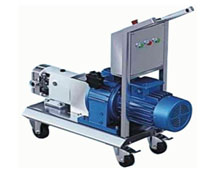 4. AVZ-M Mobile Lobe Pump
Mobile lobe pump can be moved at any time.
Standard configuration: a console, a lockable mobile plate, a variable gearbox.
Option: console with built-in converter, variable frequency motor.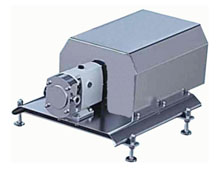 5. AVZ-PC Sanitary Lobe Pump with Protect Cover
The pump is with a full protection cover.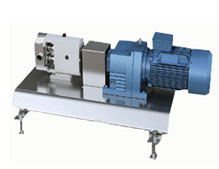 6. AVZ-FC Sanitary Lobe Pump with Frequency Converter
With frequency converter, the rotary speed can be adjusted by PLC programming.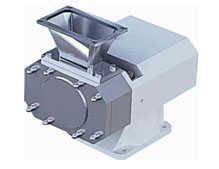 7. AVZ-FH Sanitary Lobe Pump with Flange Hopper
The AVZ-FC series has two type flange hoppers: a square type and a circular type. This pump can solve the problem of transporting hard flowing materials.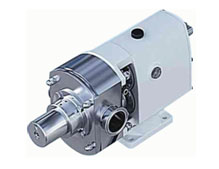 8. AVZ-PR Sanitary Lobe Pump with Pressure Relief Valve
The AVZ Series can maintain normal pipeline pressure and ensures proper flowing and safe processing.
The pressure relief valve can be internal or external.
This pump can only be used on flowing liquids.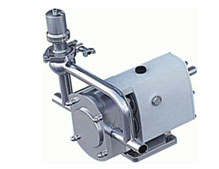 ---
Contact us for more information and best pricing.