Factors Affecting Prices of Sanitary Fittings
Each mechanical procedure whether it is water or sewage treatment, gas or petroleum preparing, mining, sustenance handling, compound and plastic methodologies or other will oblige a fitting administration of stream of materials and weight petitioned better productivity in assignments. Moreover, sanitary valves and sanitary fittings are utilized in the modern techniques which require high hygienic criteria. A number of factors will affect the prices of them. They are the material type, working pressure, and material temperature. Now let us go through how they take roles in prices.
1. Material Type
Depending on the material type of the sanitary fitting you want to buy, the cost of one fitting may differ from that of other fittings. For example, when buying sanitary fittings, you should be mindful of the material type and the handle style. Not all manufacturers provide the 316L and 304L fittings but those who offer fittings with these materials may price them differently. Sanitary fittings suppliers will be able to advise you on which manufacturers provide fittings with the material you're looking for.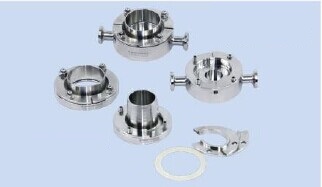 2. Working Pressure
The other factor is the working pressure. This refers to the pressure under which a sanitary fitting is meant to operate. It varies according to the different connections depending on the type of application you want to use. Obviously, sanitary fittings with a higher working pressure may cost slightly more than those whose working pressure is low.
3. Material Temperature
Lastly, the material temperature also affects the pricing. This is the temperature at which a sanitary fitting can withstand while still functioning normally. The cost of a fitting to be used in the food industry may vary from that of a fitting being used in a medical setting because the former may require a higher material temperature, than the latter.

Prev: Understanding the Common Features of Sanitary Fittings Next: How Sanitary Pumps Work in Beverage Industry