AV-14 Sanitary Filters
Application
Filters provide reliable means of removing fine particles from liquids; filtering media must be removed and disposed periodically. Strainers, on the other hand, actually are coarse filters that remove larger particles; the straining mesh can be reused after cleaning.
Materials
Materials: AISI-304
Size: 1''-2''
Technical Parameter
Working pressure: 0 ~ 10bar (0 ~ 145psi)

Working temperature: -10 ~ +120°C (EPDM)
Screen: Metal Mesh


Screen: Perforated Plate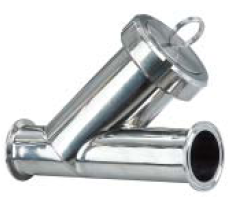 ---
Contact us for more information and best pricing.