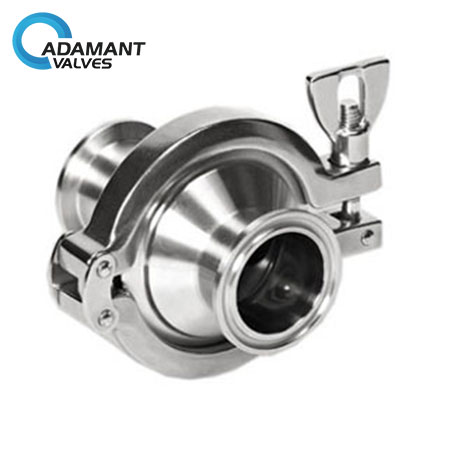 Design and Construction for Sanitary Fluid Processing Equipment
It's known to all that in the food and beverage industry, nothing is so critical as sanitation and safety. This requires that the whole set of the sanitary fluid processing equipment, including sanitary valves, fittings, pumps and other pieces, be designed, fabricated, constructed and installed according to sound sanitary design principles. Equipment that does not meet basic sanitary design principles, or is installed or operated improperly cannot be adequately cleaned and sanitized.
Materials
Depending upon the applications, various metals as well as non metals (e.g., plastics, rubber) are used in the construction and manufacturing of fluid processing equipment. These materials vary in their properties such as workability, compatibility and chemical activity, etc.. Meanwhile, there're also other materials that should be avoided in this field.
Metals
Stainless Steel: The most common metal for sanitary fluid processing equipment due to its excellent corrosion resistance and durability. However, not all stainless steel is equal. In general, the properties of the stainless steel alloy depend on the ratio between the Chromium and Nickel content. Corrosion resistance varies with The Chromium level and the Nickel level influents structural strength. The American Iron and Steel Institute (AISI) 300 Series Stainless Steel, commonly recommended for food contact surfaces, is also termed 18/8 indicating that it is 18% Cr and 8% Ni. 3A Sanitary Standards require 316 (or 18/10) stainless steel for most surfaces, allow the use of 304 stainless steel only for utility usage (e.g. pipes), and restrict the use of 303 stainless steel. 3A Standards also provide specifications for alloys and other coatings used in fabrication.
Copper: primarily used in equipment for the brewing industry. Care should be taken when processing acid products with copper equipment because its residues may leach into the product.
Carbonized Metal and Cast Iron: only used for frying and cooking surfaces, and similar applications in food service.
Galvanized Iron: should be avoided as a food contact surface because it is highly reactive with acids.
Non-metals
Some non-metal materials are applied in specific applications of food equipment (e.g., probes, gaskets, membranes). They should also meet the same sanitary requirements for metals. Non-metal materials used in sanitary fluid processing equipment are mainly rubber and rubber-like materials, including EPDM, Silicone, PTFE and FPM, etc..
Non-metal surfaces, in general, lack the corrosion resistance and durability of metal surfaces. Therefore, maintenance work should include frequent examination for wear and deterioration of these parts and appropriate replacement.