Sanitary Double Check Valve Operation and Application
A double check valve or double check assembly (DCA) is a backflow preventer designed to protect water sources from contamination. It is also a valve used in compressed air braking systems on heavy trucks. It consists of two non-return valves connected in series. This uses two principles of operation: on the one hand, a check valve will always act, even if the other is blocked in open position. Second, closing one valve reduces the pressure differential across the other, allowing for a more reliable seal and even preventing minor leaks.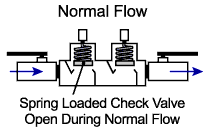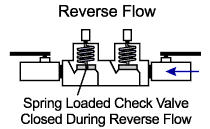 The small valves can be so barely noticeable, especially when integrated into existing valve bodies. Larger check valves may be installed with end ball valves for insulation and testing. Often, test valves are in place to attach the test equipment to assess whether the double check assembly is still functional. The double check valve is suitable for the prevention of back pressure and siphoning, but is not suitable for high risk applications. It is commonly used on lawn irrigation systems, fire sprinklers and mixed boilers. If the hazard is higher, even a relatively low risk such as the use of antifreeze in the fire sprinkler system, a more reliable sanitary check valve such as a reduced pressure zone device may be mandatory.

Prev: Plumbing Industry History Next: Taps as Sanitary Fittings in Bathrooms