What You Should Know About Sanitary Fittings
Introduction
Sanitary fittings are mainly used for hygienic fittings used in places with high hygienic standards in pharmaceutical, food and other industries. Generally, sanitary fittings are purchased from pharmaceutical or food factory for maintenance and related equipment configuration, and buyers are mainly pharmaceutical, food equipment system integrators and buying wholesale and so on.
Generally, sanitary fittings can be installed at any position of the pipeline. However, it should be noted that the media flow direction of the sanitary grade elbow should be from the bottom to the top of the longitudinal valve disc for the inspection of easy operation, and the sanitary grade head can only be installed horizontally. When used, sanitary fittings, sanitary ball valves, sanitary shut off valves and sanitary brake valves are only used for full opening or full closing without regulating flow, so as to avoid erosion of the sealing surface and accelerate wear.
Design Principles
There are ten principles of sanitary fittings design, and these principles are appropriate for equipment in all food uses, including the production of pet food and pet products.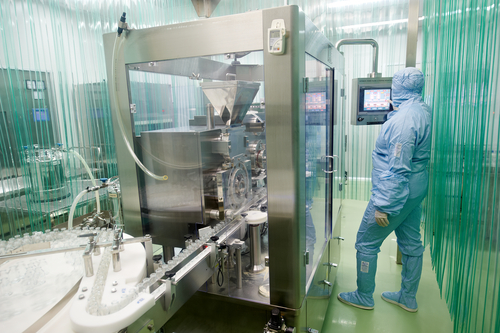 1. Microbiologically cleanable to prevent bacterial growth on equipment contact surfaces, whether produced or not.
2. Made of materials compatible with the product, environment and cleaning and sanitation methods.
3. Accessible for inspection, maintenance, cleaning and hygiene without the use of tools.
4. No product or liquid collection. The equipment should be self-draining.
5. The hollow areas must be tightly closed. Bolts, mounting plates, brackets, and other such items must be continuously welded to the unattached surface by drilled and tapped holes.
6. No niche. Equipment must be free of niches.
7. Health operational performance. The equipment must operate in such a way that it does not contribute to unsanitary conditions.
8. Hygienic design of the maintenance enclosures to ensure that the food product, water or product liquid does not enter or accumulate in and on the enclosure or interface.
9. Hygienic compatibility with other plant systems such as electricity, hydraulics, steam, air, and water.
10. Validated cleaning and disinfection protocols must be clearly written, designed and proven effective and efficient.
Common Features
As the name suggests, sanitary fittings have been designed for use in areas that require sterile or clean processing. The common features of sanitary fittings are crevice-free, polished surfaces, and easy cleaning. The media flowing through these fittings include liquids, gases, and those liquids with solid suspensions.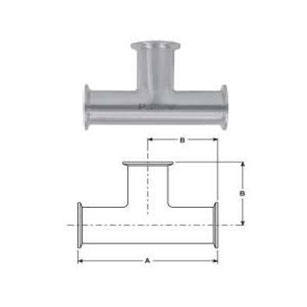 1. Crevice Free
Crevices are not desirable when working with products that are of prime importance to humans. As aforementioned, sanitary fittings are used in various industries like food, dairy, medical, and so on. These are highly sensitive industries where sanitation is critical. Having said that, there should be no room for contamination and that means all sources of contamination should be unheard of. Crevices can be a threat to hygiene and that's why sanitary fittings manufacturers ensure these devices are crevice free.
2. Easy Cleaning
In an industry, cleaning is paramount and depending on the nature of the end products, it should be carried out as often as possible. In a dairy plant, for instance, the piping where the dairy products flow should be kept clean, including the fittings that regulate the flow of these products. Like all businesses, manufacturing plants wouldn't like to spend an arm and leg in cleaning. A better way to achieve this would be to use those fittings whose material is easy to clean and doesn't hold stains. Fortunately, sanitary fittings are not hard to clean.
3. Polished surfaces
Most surfaces, whether wooden or metallic, are susceptible to degradation with extended use. While pests may attack wooden surfaces, corrosion usually spreads on most metallic surfaces, particularly those exposed to water and other liquid substances. This can cost lots of money in replacements. It can also contaminate any liquid or gaseous media that flows through such metallic surfaces. One way to cut on these costs would be to use fittings because they come with polished surfaces and are therefore rust free. In most cases, you'll come across fittings made from polished stainless steel and are undoubtedly clean.
Applications
The applications of sanitary fittings in environmental protection are as follows.
1. Atmospheric protection
First of all, from the perspective of atmospheric environmental protection, the demand for heat-resistant, heat-resistant corrosion-resistant stainless steel sanitary valve fittings to be installed in high-temperature scum combustion and installation, LNG power generation and efficient power generation using coal will be expanded. It is also estimated that the battery shell of fuel cell vehicles, which will be put into practice in the early 21st century, will also use stainless steel sanitary valve fittings.
2. Water-quality protection
From the point of view of water-quality environmental protection, drainage disposal installation, stainless steel with excellent corrosion resistance will also expand the demand in the water supply. The use of stainless steel in existing bridges, highways, tunnels and other equipment in Europe is increasing, and it is estimated that this trend will spread all over the world.
3. Reducing construction waste
The lifespan of a typical Japanese residential building is particularly short - 20 to 30 years, with waste disposal a major problem. Recently, buildings with a life of up to 100 years have begun to appear, so that the demand for data with good durability will increase. From the perspective of environmental protection, it is necessary to discuss how to reduce the cost of maintenance in the design phase of introducing new concepts while reducing civil and construction waste.
Factors Affecting Prices of Sanitary Fittings
Each mechanical procedure whether it is water or sewage treatment, gas or petroleum preparing, mining, sustenance handling, compound and plastic methodologies or other will oblige a fitting administration of stream of materials and weight petitioned better productivity in assignments. Moreover, sanitary valves and sanitary fittings are utilized in the modern techniques which require high hygienic criteria. A number of factors will affect the prices of sanitary fittings, which are the material type, working pressure, and material temperature. Now let us go through how they take roles in prices.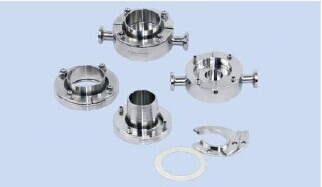 1. Material Type
Depending on the material type of the sanitary fitting you want to buy, the cost of one fitting may differ from that of other fittings. For example, when buying sanitary fittings, you should be mindful of the material type and the handle style. Not all manufacturers provide the 316L and 304L fittings but those who offer fittings with these materials may price them differently. Sanitary fittings suppliers will be able to advise you on which manufacturers provide fittings with the material you're looking for.
2. Working Pressure
The other factor is the working pressure. This refers to the pressure under which a sanitary fitting is meant to operate. It varies according to the different connections depending on the type of application you want to use. Obviously, sanitary fittings with a higher working pressure may cost slightly more than those whose working pressure is low.
3. Material Temperature
Lastly, the material temperature also affects the pricing. This is the temperature at which a sanitary fitting can withstand while still functioning normally. The cost of a fitting to be used in the food industry may vary from that of a fitting being used in a medical setting because the former may require a higher material temperature, than the latter.

Prev: Mechanical Properties of Sanitary Manual Butterfly Valves Next: An Overview of Sanitary Diaphragm Valves