What is a Sanitary Tee?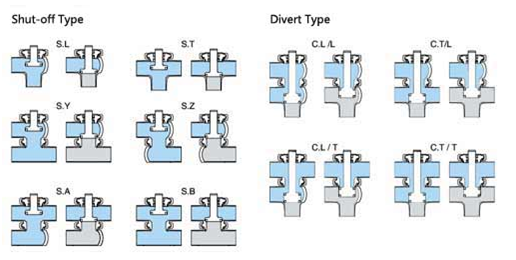 What are Sanitary Tees?
Sanitary tees are t-shaped sanitary pipe fittings used in the branch pipe of the main pipeline. Under normal use, sanitary tees connect a branch line to a vertical drain line or vent line. Sanitary tees can be made with a consistent diameter or different diameters to connect to pipes or valves with different fitting sizes. These helpful pieces of equipment come in many different shapes and sizes, but there are only two main types of sanitary tees. We'll discuss the details, uses, and classifications of the different types of sanitary tee fittings below.
What are Sanitary Tees Used For?
A sanitary tee has a curved center section to allow smoother, more efficient liquid flow. In drainage systems, it is primarily used to connect horizontal drains to vertical drains. The center connection is usually to the pipe leading to a trap. Sanitary tees should not be used to connect a vertical drain to a horizontal drain because of the likelihood that solids will build up at the bottom of the junction and cause a blockage.
Three Different Uses of Sanitary Tees
Sanitary tees can be used to join a horizontal line. For example, to join waste arms to vent stacks or vertical risers.

In some cases, a sanitary tee can also be used in place of a vent tee when plumbing vent lines. It helps to maintain the proper flow.

When installing sanitary tees, do not place them with the backside up and the side open because this will cause waste to splash upstream when it hits the bottom of the horizontal pipe. This will eventually cause blockages in the pipeline.
How are Sanitary Tees Classified?
Classified by Pipe Diameter
1. Straight Tee
Straight tees have the same diameter of the main pipe and branch pipe.
2. Reducing Tee
Reducing tees have a branch pipe diameter smaller than that of the main pipe.
Classified by Docking Form
1. Butt-Welded Tee
Butt-welded tees provide a branch with a 90-degree turn and are connected after butt welding with the connecting pipe fittings.
2. Socket Type Tee
A socket-type tee is a tee pipe fitting that is welded or welded after inserting the connecting pipe into each end of the tee.
3. Card Sleeve Type Tee
A card sleeve-type tee is a three-way pipe fitting with a card sleeve joint at each end, and the pipe fitting is inserted and then tightened.
4. Threaded Tee
Threaded tee fittings connect pipes by screwing into place.
Classified by Material
Sanitary tees can be primarily made of several different materials. Usually, the following materials are used to create a sanitary tee:
stainless steel tees

carbon steel tees

copper tees

PVC tees

ductile iron tees
Classified by Branch Form
1. Positive Tee
Positive tees are tee fittings used for the vertical main pipe of the branch pipe.
2. Oblique Tee
Oblique tees are fittings with a specified angle between the branch pipe and the main pipe.
The Two Main Types of Sanitary Tees 
Double Sanitary Tee or Sanitary Cross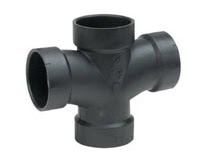 The double sanitary tee differs from a standard cross in that two of the ports have curved entrances. Although it has been used in the past to connect back-to-back fixture drains, some current codes—including the 2006 Uniform Plumbing Code in the US—prohibit the use of this fitting for that purpose and require a double luminaire fitting to minimize wastewater from one side flowing into the other.
Wye Fitting or Y Fitting

Wye fittings are similar to tees, but they differ by tilting the bypass line to reduce friction and turbulence. They are commonly used to attach a vertical drain to a horizontal pipe. The connection is usually 45 degrees rather than 90 degrees. If a branch is further away at 90 degrees, the fitting becomes a combo tee. Wyes and combo wyes follow a long sweeping pattern compared to sanitary tees and other short sweeps, which have a smaller radius and require less space. A wye can also be used to divide a bypass line evenly in two directions, such as dividing the mainline into two smaller branches.
Conclusion
Thank you for reading our article! We hope it can help you better understand the main types of sanitary tees. If you want to learn more about sanitary valves, we would like to advise you to visit the Adamant Valves homepage for more information.