Sanitary Stainless Steel Regulators
What is the sanitary regulator?
Sanitary regulators are designed to meet the stringent demands of today's state-of-the-art Life Science facilities. Polished, stainless steel body and trim components ensure efficient cleaning and sanitizing giving you confidence that your processing environment produces the highest purity.
Type: Control Valve % Regulator
Reference No.: AV-6
Sizes: 1″ – 2″
Materials: 304 – 316L
Operation: Manual, Pneumatic
Adamant Valves AV-6 series stainless steel sanitary regulator uses:
Adamant Valves AV-6 series regulating valve is widely used in the sanitary fluid pipeline system to regulate pressure and flow. It is available with a hard or soft set and a variety of diaphragm and o-ring materials, making the valve well-suited for virtually any sterile back pressure application. It is well applied to stainless steel pipe systems for food, beverage, dairy, brewing, pharmaceutical, biopharmaceutical, and chemical industries.
Adamant Valves AV-6 series stainless steel sanitary regulator advantages:
AV-6 series sanitary regulating valve has many advantages such as removable connection, simple structure, and easy maintenance;
Adamant valves can provide valve body and disc materials such as AISI 304 or AISI 316L, 304L and 316 materials, automated or manual operation valve according to your requests.
Materials Materials: AISI-316L/ AISI 304 Size: 1''-2'' Plug and seal: EPDM, or others upon request. Standard Design Valve body and valve stem with stopper are made of stainless steel AISI 304 or acid-resistant stainless steel AISI 316L. Valve body OD sand polished, valve stem is strengthened...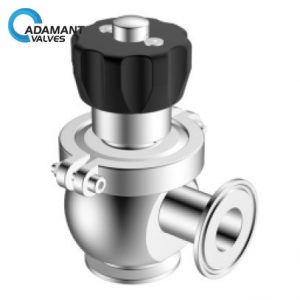 Size 1/4"-3/4", DN6-DN15 Body material Hastelloy C276/C22 Monel 400, 254SMO N08904 Titanium TA1/TA2 Connection Clamp, welding, thread, flange, etc. Working Temp. -20 to 150℃ Set pressure 10 bar