AV-1MT Sanitary Thread Butterfly Valves with Pull Handle
Specification
| | |
| --- | --- |
| Type | Butterfly Valve |
| Reference No. | AV-1MT-P |
| Sizes | 1/2″ to 4″ (1/2″, 3/4″, 1", 1 1/2″, 2″, 2 1/2″, 3″, 4″) |
| Diameter Nominal | DN15 – DN100 (DN15, DN20, DN25, DN40, DN50, DN65, DN80, DN100) |
| Valve body material | AISI 304 or AISI 316L, 304L and 316 materials |
| Max. working pressure | 145psi (10bar) for DN25/1″-DN100/4″; 116psi (8bar) for DN125/5″-DN150/6″; 73psi (5bar) for DN200/8″-DN300/12″ |
| Temperature range | 14 ~ 248°F (-10 ~ 120°C) with EPDM seat, -58 ~ 356°F (-50 ~ +180°C) with VMQ (Silicone) seat |
| End connections |  threaded |
| Operation | 4-position Pull handle as the product photo shows |
| Surface treatment | Ra 16-32μin (0.4-0.8μm), Ra 25 (0.5μm) is the default. |
Description
Adamant's Sanitary Threaded Butterfly Valves with Pull Handle is constructed from 316 Stainless Steel with a 32Ra ID/OD polish. Flange / Flanged is available with your choice of end connection.
They are ideal for use in food or drink processing and other clean service applications. All of Adamant's products include an ISO 5211 mounting pad for the direct mounting of actuators. Direct mount eliminates the need for extra space, weight, and cost. A full range of accessory items is available including pneumatic and electric actuators, limit switches, solenoid valves, and manual override devices.
Application
AV-1MT series is a manual type sanitary butterfly valve with thread/thread ends, which is widely used in process piping systems for isolation and control. AV-1MT-P butterfly valve operates manually.
Specification
| | |
| --- | --- |
| Type | Butterfly Valve |
| Reference No. | AV-1MT-P |
| Sizes | 1/2″ to 4″ (1/2″, 3/4″, 1", 1 1/2″, 2″, 2 1/2″, 3″, 4″) |
| Diameter Nominal | DN15 – DN100 (DN15, DN20, DN25, DN40, DN50, DN65, DN80, DN100) |
| Valve body material | AISI 304 or AISI 316L, 304L and 316 materials |
| Max. working pressure | 145psi (10bar) for DN25/1″-DN100/4″; 116psi (8bar) for DN125/5″-DN150/6″; 73psi (5bar) for DN200/8″-DN300/12″ |
| Temperature range | 14 ~ 248°F (-10 ~ 120°C) with EPDM seat, -58 ~ 356°F (-50 ~ +180°C) with VMQ (Silicone) seat |
| End connections |  threaded |
| Operation | 4-position Pull handle as the product photo shows |
| Surface treatment | Ra 16-32μin (0.4-0.8μm), Ra 25 (0.5μm) is the default. |
Options
Valve body and disc material can be AISI 304 or AISI 316L, 304L and 316 materials are available upon request.
The seat and gasket can be EPDM, VMQ (Silicone) or Viton (FPM), all complying with FDA 21CFR177.2600.
End connection can be butt-welded, sanitary tri-clamp, threaded, flanged, I-line or others upon request.
Handles: 4-position pull handle; multi-position handle with plastic cover or in pure stainless steel.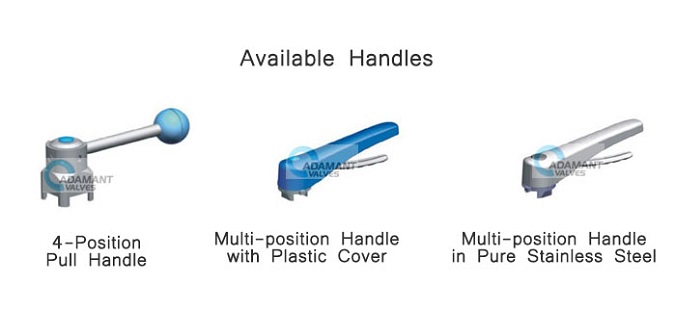 Actuators to reach automatic operation: pneumatic stainless steel actuator (vertical type), pneumatic aluminum actuator (horizontal type), and electric actuator.
NC operated: normally closed (fail closed)—air to open, spring to close
NO operated: normally open (fail open)—air to close, spring to open
AA operated: double acting—air to open, air to close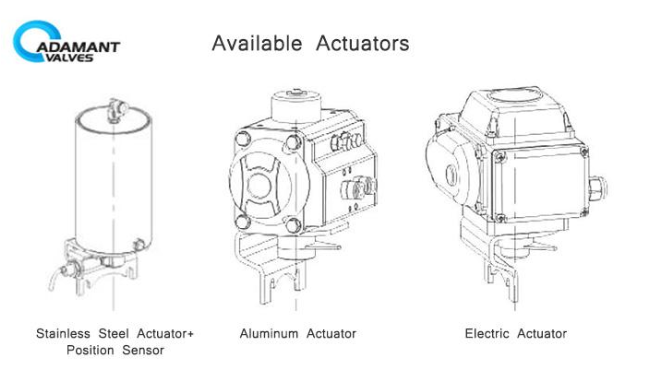 Valve intelligent control: position sensor, C-top controller, C-top controller (AS-I)
Standards: DIN, SMS, ISO / IDF, BS / RJT, and ASME / BPE
Technical Parameters
Steel material
Product wetted steel parts
AISI 304 or 316L

(1.4301 / 1.4404)

Provided with the material inspection report
Other steel parts
AISI 304
Seal material
Standard
EPDM
All seal materials comply with FDA 

21CFR177.2600

Options
VMQ / Viton (FPM)
Pressure
Working pressure
≤145psi (10bar)
Supply pressure for air actuator
70 ~ 116psi (5 ~ 8bar)
Temperature
Working temperature
EPDM: 14 ~ 248°F (-10 ~ 120°C)

VMQ (Silicone): -58 ~ 356°F (-50 ~ +180°C)

Viton (FPM): -22 ~ 428°F (-30 ~ +220°C)

Sterilization temperature
150°C (302°F), Max. 20 min
Surface treatment
Inside surface treatment
Ra 16 ~ 32µin (0.4 ~ 0.8µm)
Outside surface treatment
Ra 32 ~ 64µin (0.8 ~ 1.6µm)
Connection
End connections: butt-welded, sanitary clamp, male and female threaded, flanged, I-line or others upon request.
Related Products:
| | |
| --- | --- |
| PDF | /wp-content/uploads/2016/01/AV-1-Sanitary-Butterfly-Valves.pdf |