Sanitary Double Check Valve: Function, Operation, & Application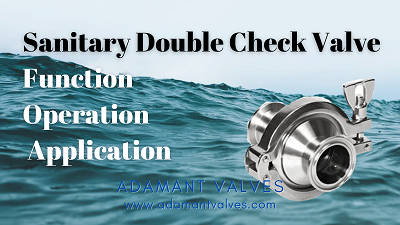 What is a Double Check Valve?
A check valve is a non-return valve or a one-way valve designed to prevent backflow. Sanitary check valves are designed for use in applications requiring clean or sterile processing. They are often used in clean water systems as a safeguard against backflow contamination.
Double check valves usually consist of two check valves that are interlinked in case one fails. A double check valve or double check assembly (DCA) is a backflow preventer designed to protect water sources from contamination. It is also a valve used in compressed air braking systems on heavy trucks.
How Does a Check Valve Work?
The structure of a check valve is usually very simple, including parts such as a valve body, a valve seat, a valve disc, and a cover. The working principle of the check valve is to allow one-way flow and automatically prevent reverse flow. This type of valve is sensitive to flow and relies on the medium to open and close the valve seat. The inner disc allows the medium to flow forward, thereby forcing the valve to open. Once the flow reverses, the valve reverses automatically. The check valve is one of the few fully automated valves that can be circulated without manual intervention. So, now that you understand how check valves work, we can learn more about how double check valves work!
What is the Difference Between A Single and Double Check Valve?
The main difference between a single check valve and a double check valve is that double check valves provide extra security — if one of the check valves fails, the other valve will still be able to save the system from backflow contamination. Single check valves provide category 2 fluid protection, guarding against fluctuations in temperature, taste, or smell. A double check valve is for category 3 fluid protection protecting against contamination from low-toxicity chemicals like household cleaners.
Sanitary Double Check Valve Operation
What is the function of the double check valve?
Double check valves consist of two non-return valves connected in a series, operating under these two principles: 
1) Firstly, one check valve will still act, even if the other is jammed wide open.
2) Secondly, the closure of one valve reduces the pressure differential across the other, allowing a more reliable seal and avoiding even minor leakage.
Sanitary Double Check Valve Application
The small valves can be hard to notice, especially when integrated into existing valve bodies. Larger check valves may be installed with end ball valves for insulation and testing. Often, test valves are in place to attach the test equipment to assess whether the double check assembly is still functional. 
Where are Double Check Valves Used?
The double check valve is suitable for the prevention of back pressure and siphoning, but is not suitable for high risk applications. It is commonly used on lawn irrigation systems, fire sprinklers and mixed boilers. If the hazard is higher, even a relatively low risk such as the use of antifreeze in the fire sprinkler system, a more reliable sanitary check valve such as a reduced pressure zone device may be mandatory.
Conclusion
Thank you for reading our article and we hope it can help you better understand the operation and applications of double check valves. If you want to learn more about sanitary valves, we would like to advise you to visit the Adamant Valves homepage for more information.