AV-1HWE High Performance Wafer Butterfly Valve, 304 Body, Electric Operator
Specifications
| | |
| --- | --- |
| Size | 1.5"-12", DN40-DN300 |
| Working temperature | -20 °C – 130 °C(EPDM) |
| Working pressure | 10 bar; 16 bar |
| Body material | 304 |
| Valve plate material | 304, 316L, stainless steel + PFA |
| Sealing material | EPDM, SILICON, FKM, HNBR, NBR, PTFE, TFM |
| Connection | Wafer type, lugged |
Description of High-Performance Wafer Butterfly Valve
Wafer type butterfly valve is simple in structure, small in size and light in weight, and consists of only a few parts. Moreover, it can be opened and closed quickly by rotating 90 °, and the operation is simple. At the same time, the valve has good fluid control characteristics. When the butterfly valve is in the fully open position, the thick butterfly plate resists medium flows through the valve, and it generates small pressure drop.
Specifications of High-Performance Wafer Butterfly Valve
| | |
| --- | --- |
| Size | 1.5"-12", DN40-DN300 |
| Working temperature | -20 °C – 130 °C(EPDM) |
| Working pressure | 10 bar; 16 bar |
| Body material | 304 |
| Valve plate material | 304, 316L, stainless steel + PFA |
| Sealing material | EPDM, SILICON, FKM, HNBR, NBR, PTFE, TFM |
| Connection | Wafer type, lugged |
Options of High-Performance Wafer Butterfly Valve
Valve body and disc material can be AISI 304 or AISI 316L, 304L and 316 materials are available upon request.
The seat and gasket can be EPDM, VMQ (Silicone), or Viton (FPM), all complying with FDA 21CFR177.2600.
End connection can be butt-welded, sanitary tri-clamp, threaded, flanged, I-line, or others upon request.
Handles turbine handle in stainless steel; multi-position handles with plastic cover or in pure stainless steel.
Actuators to reach automatic operation: pneumatic stainless steel actuator (vertical type), pneumatic aluminum actuator (horizontal type), and electric actuator.
NC operated: normally closed (fail closed)—air to open, spring to close
NO operated: normally open (fail open)—air to close, spring to open
AA operated: double acting—air to open, air to close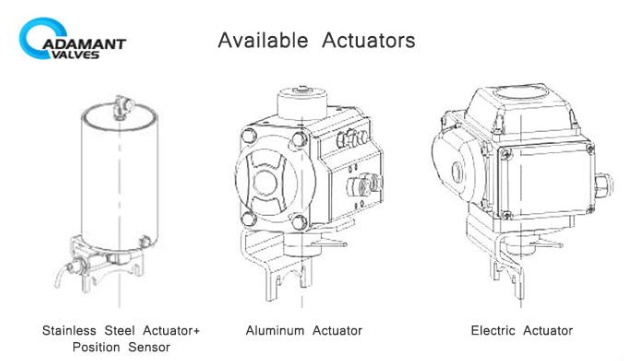 Valve intelligent control: position sensor, C-top controller, C-top controller (AS-I)
Standards: DIN, SMS, ISO / IDF, BS / RJT, and ASME / BPE
Applications of High-Performance Wafer Butterfly Valve
The wafer butterfly valve is widely used in chemical and water treatment. It is also a very economical fluid solution for processes with low sanitation levels and low frequency of opening and closing. PFA-packaged valve plates can be used in highly corrosion media in the chemical or semiconductor industries. Wafer butterfly valves with stainless steel discs can be used in the food or pharmaceutical industry.