AV-1MTE Sanitary 3-Way Manual Butterfly Valve With Threaded Ends
Specifications
| | |
| --- | --- |
| Size | 1"-4", DN25-DN100 |
| Working temperature | 130 °C Max. |
| Working pressure | 10 bar Max. |
| Body material | 304, 316L |
| Sealing material | EPDM, VMQ, FPM |
| Connection | Welded, threaded, flange, and tri-clamp |
| Standards | DIN SMS RJT Inch |
Description of Sanitary 3-Way Manual Butterfly Valve With Threaded Ends
Stainless steel 3-way sanitary butterfly valves are engineered and developed for use in applications that necessitate a sterile, clean environment. Common product features typically incorporated into the sanitary valve design include uncomplicated cleaning characteristics in which the valves have minimal or no crevice sections. There are numerous specifications involved with 3-way sanitary butterfly valve design, including operating temperatures, the diameter of the valve along with the media variety, including gases, liquids, liquids with suspended solids and gases being used in the tubing system.
Specifications of Sanitary 3-Way Manual Butterfly Valve With Threaded Ends
| | |
| --- | --- |
| Size | 1"-4", DN25-DN100 |
| Working temperature | 130 °C Max. |
| Working pressure | 10 bar Max. |
| Body material | 304, 316L |
| Sealing material | EPDM, VMQ, FPM |
| Connection | Welded, threaded, flange, and tri-clamp |
| Standards | DIN SMS RJT Inch |
Size
G(Rd)
L
L1
DN25
52×1/6
178
108
DN32
58×1/6
190
115
DN40
65×1/6
202
122
DN50
78×1/6
225
134
DN65
95×1/6
251
148
DN80
110×1/4
277
162
DN100
130×1/4
312
184
Options of Sanitary 3-Way Manual Butterfly Valve With Threaded Ends
Valve body and disc material can be AISI 304 or AISI 316L, 304L and 316 materials are available upon request.
The seat and gasket can be EPDM, VMQ (Silicone) or Viton (FPM), all complying with FDA 21CFR177.2600.
End connection can be butt-welded, sanitary tri-clamp, threaded, flanged, I-line or others upon request.
Handles: 4-position pull handle; multi-position handle with plastic cover or in pure stainless steel.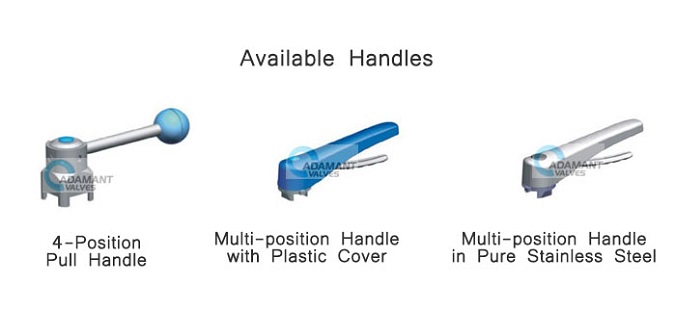 Actuators to reach automatic operation: pneumatic stainless steel actuator (vertical type), pneumatic aluminum actuator (horizontal type), and electric actuator.
NC operated: normally closed (fail closed)—air to open, spring to close
NO operated: normally open (fail open)—air to close, spring to open
AA operated: double acting—air to open, air to close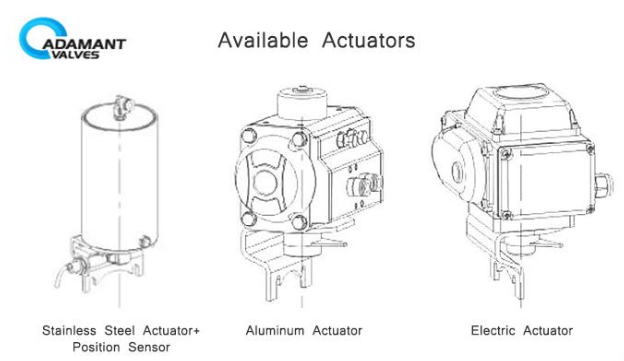 Valve intelligent control: position sensor, C-top controller, C-top controller (AS-I)
Standards: DIN, SMS, ISO / IDF, BS / RJT, and ASME / BPE
Applications of Sanitary 3-Way Manual Butterfly Valve With Threaded Ends
Mainly Used in brewing, food processing, diary and beverage industries.