AV-3P Three Piece Check Valve
Casing/Shaft: AISI 316L/AlSI 304
Spring: AISI 301
Surface Finishing: Ra≤0.8μm
Max. Pressure:
0.3bar (DN25)
0.2bar (DN32/40)
0.1bar (DN20/100)
Operating Temp. : -10℃ to +120℃ (EPDM)
Three-Piece Check Valve Description
Check valve refers to a valve whose opening and closing parts are circular discs and rely on its own weight and medium pressure to generate actions to block the backflow of the medium.
Three-Piece Check Valve Specifications
| | | | | |
| --- | --- | --- | --- | --- |
| Size | H | D1 | Dn | D |
| DN40 | 83 | 40 | 37 | 90 |
| DN50 | 88 | 52 | 49 | 102 |
| DN65 | 98 | 70 | 66 | 120 |
| DN80 | 108 | 85 | 81 | 142 |
| DN100 | 116 | 104 | 100 | 168 |
| DN125 | 156 | 129 | 125 | 210 |
| DN150 | 166 | 154 | 150 | 240 |
| DN200 | 200 | 204 | 200 | 300 |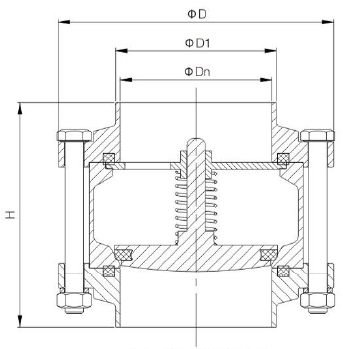 Three-Piece Check Valve Curve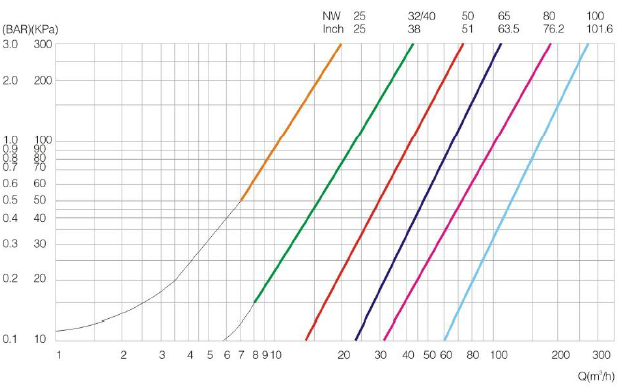 Related products: SANITARY NUT CHECK VALVE, TRI-CLAMP Y-BALL CHECK VALVE, SANITARY SPRING CHECK VALVES WITH TRI-CLAMP