AV-11BE Brushless Electric Actuator
Actuating Force Motor: 1500 N
Nominal voltage: AC/DC 24 V
Operating range Y: 2…10 V
Stroke: 20 mm
Running time motor: 150s / 20mm
Ambient temperature: 0…50℃
Brushless Electric Actuator Description
Conventional operation:
The actuator is connected with a standard modulating signal of 0…10 V and drives to the position defined by the positioning signal. The measuring voltage U serves for the electrical display of the actuator position 0.5…100% and as a slave control signal for other actuators.
Operation on Bus:
The actuator receives its digital positioning signal from the higher-level controller via the MP-Bus and drives to the position defined. Connection U serves as a communication interface and does not supply an analog measuring voltage.
Converter for sensors
Connection option for a sensor (passive or active sensor or switching contact). The MP actuator serves as an analog/digital converter for the transmission of the sensor signal via MP-Bus to the higher-level system.
Parametrisable actuators
The factory settings cover the most common applications. Single parameters can be modified with the Service Tools MFT-P or ZTH EU.
Simple direct mounting
Simple direct mounting on the globe valve by means of form-fit hollow clamping jaws. The actuator can be rotated by 360° on the valve neck.
Manual override
Manual override with push-button possible (the gear is disengaged for as long as the button is pressed or remains locked).
The stroke can be adjusted by using a hexagon socket screw key (4 mm), which is inserted into the top of the actuator. The stroke shaft extends when the key is rotated clockwise.
High functional reliability
The actuator is overload protected, requires no-limit switches, and automatically stops when the end stop is reached.
Combination valve/actuator
Refer to the valve documentation for suitable valves, their permitted fluid temperatures, and closing pressures. Valve actuator, modulating, communicative, AC/DC 24 V, 1500 N
Brushless Electric Actuator Specifications
Electrical data
Nominal Voltage
AC/DC 24 V
Nominal Voltage frequency
50/60 Hz
Nominal Voltage Range
AC 19.2…28.8V / DC 21.6…28.8V
Power Consumption in operation
2W
Power Consumption in rest position
1.5W
Power Consumption for wire sizing
3.5 VA
Connection supply/control
Terminals with cable 1 m, 4 x 0.75 mm2
Parallel Operation
Yes
Functional Data
Actuating force motor
1500N
Communicative control
MP-Bus
Operating range Y
2…10V
Input Impedance
100kΩ
Stroke
20mm
Running time motor
150s/20mm
Running time motor variable
90…150s
Sound power level, motor
35dB
Safety
Protection class UL
UL Class 2 Supply
Enclosure
UL Enclosure Type 2
Rated impulse voltage supply/control
0.8kV
Ambient temperature
0…50℃
Storage temperature
-40…80℃
Servicing
maintenance-free
Weight
1.2kg
Brushless Electric Actuator Applications
This device has been designed for use in stationary heating, ventilation, and air-conditioning systems and must not be used outside the specified field of application, especially in aircraft or in any other airborne means of transport.
Outdoor application: only possible in the case that no (sea) water, snow, ice, insolation, or aggressive gases interfere directly with the actuator and that is ensured that the ambient conditions remain at any time within the thresholds according to the datasheet.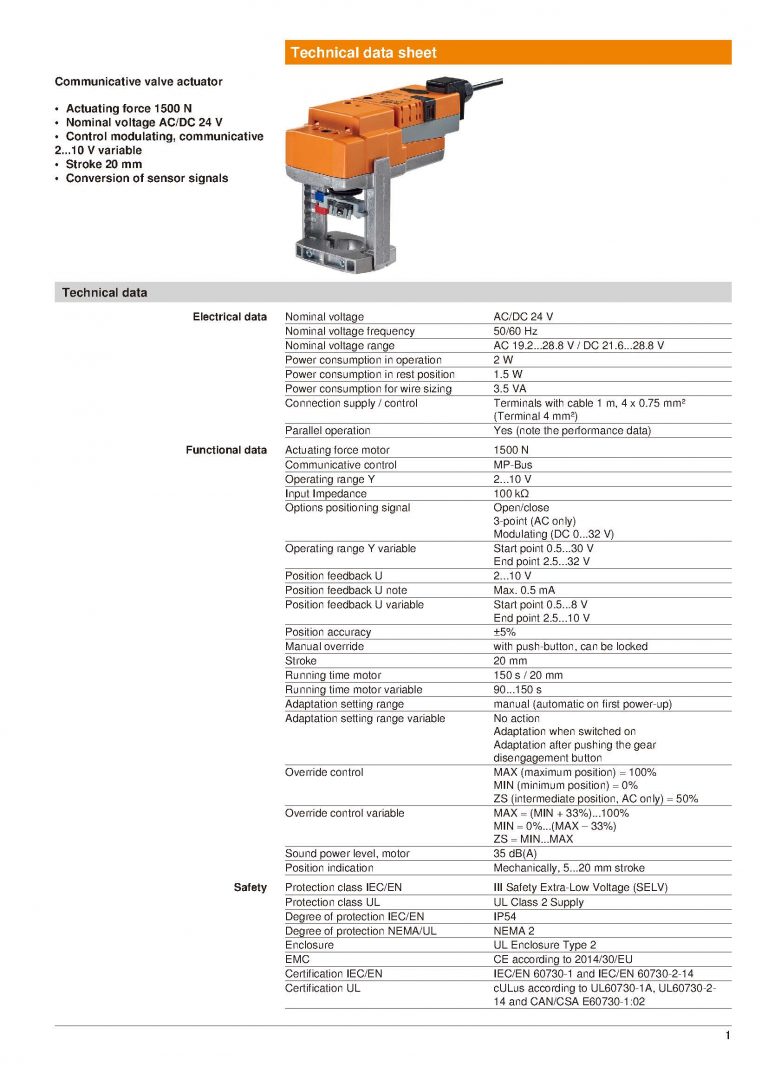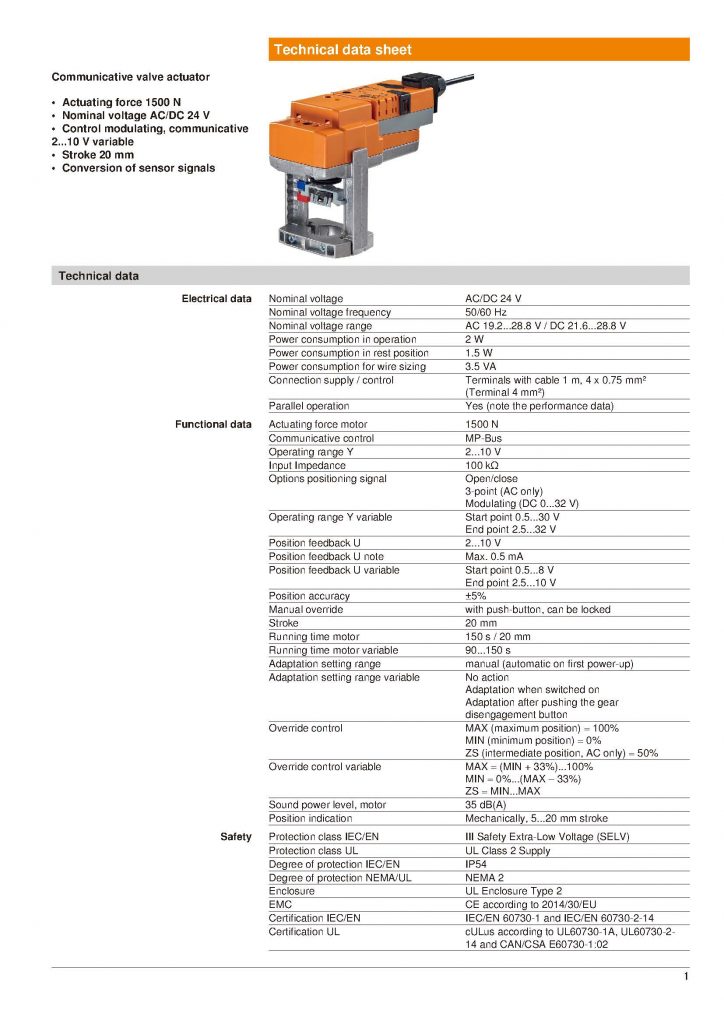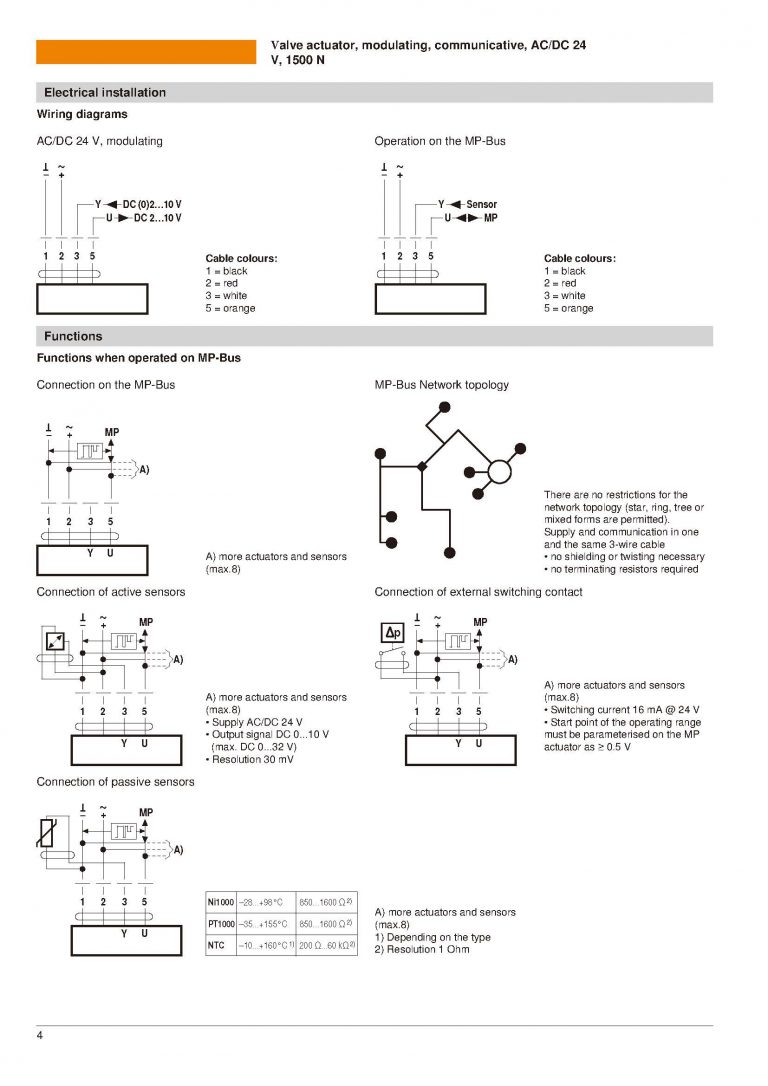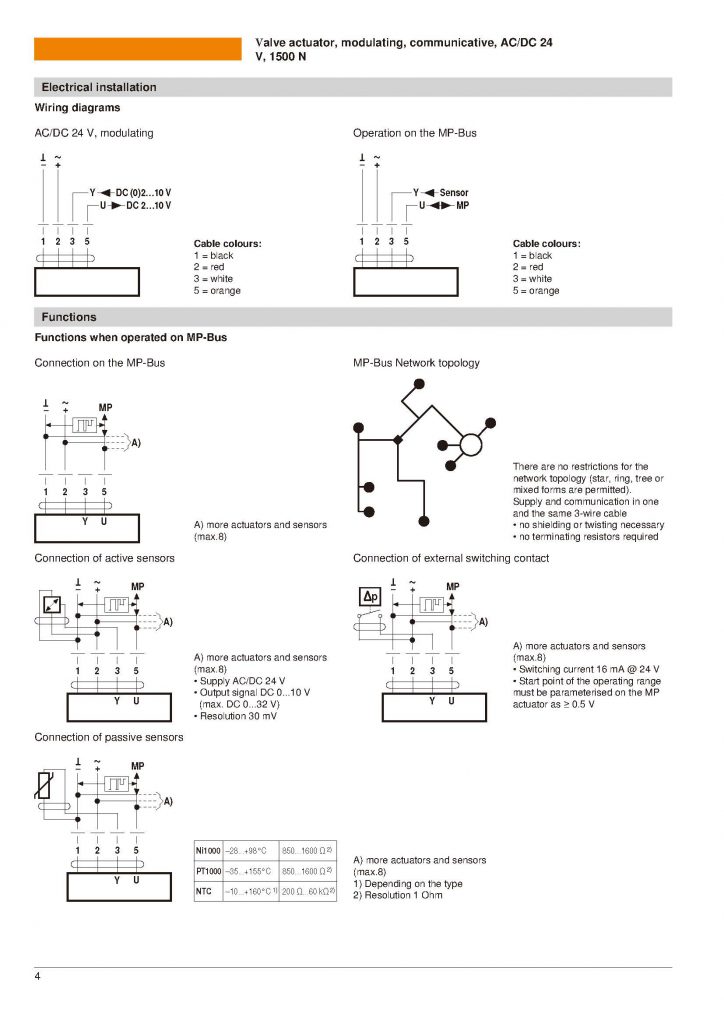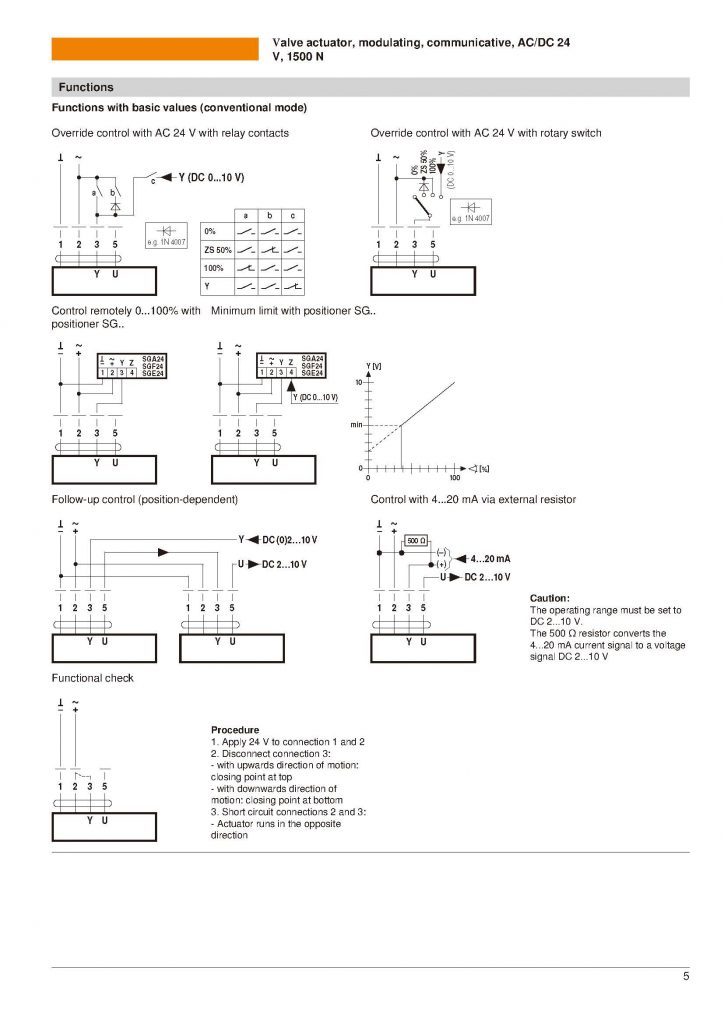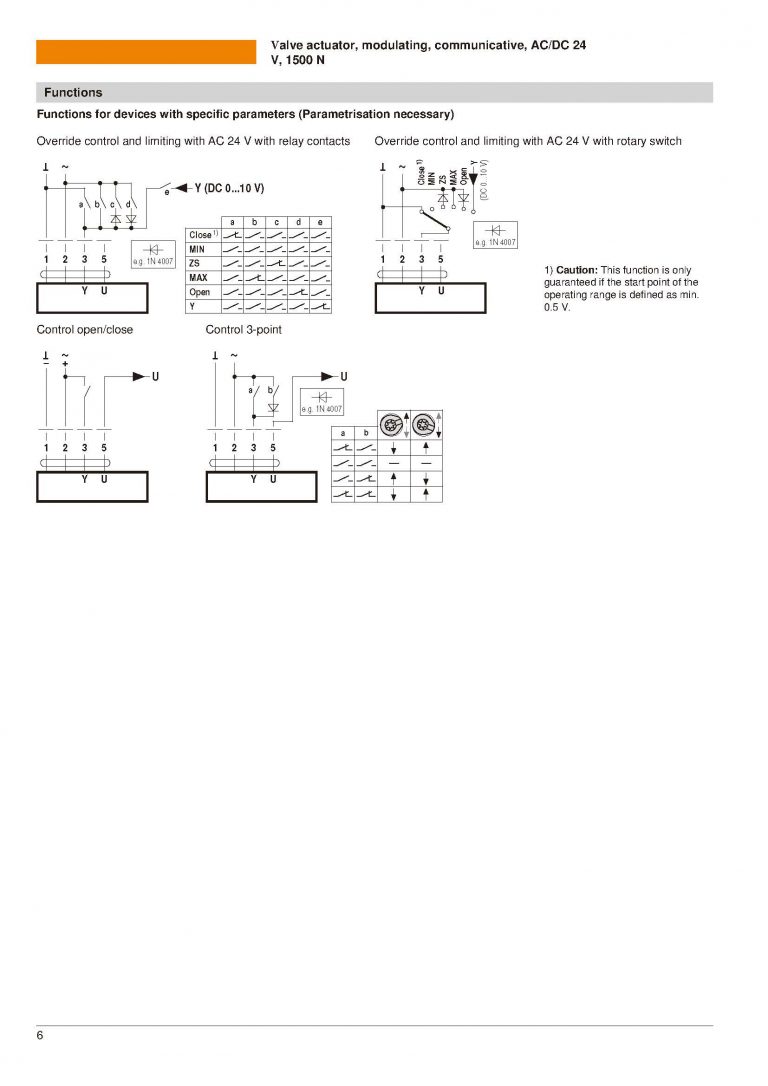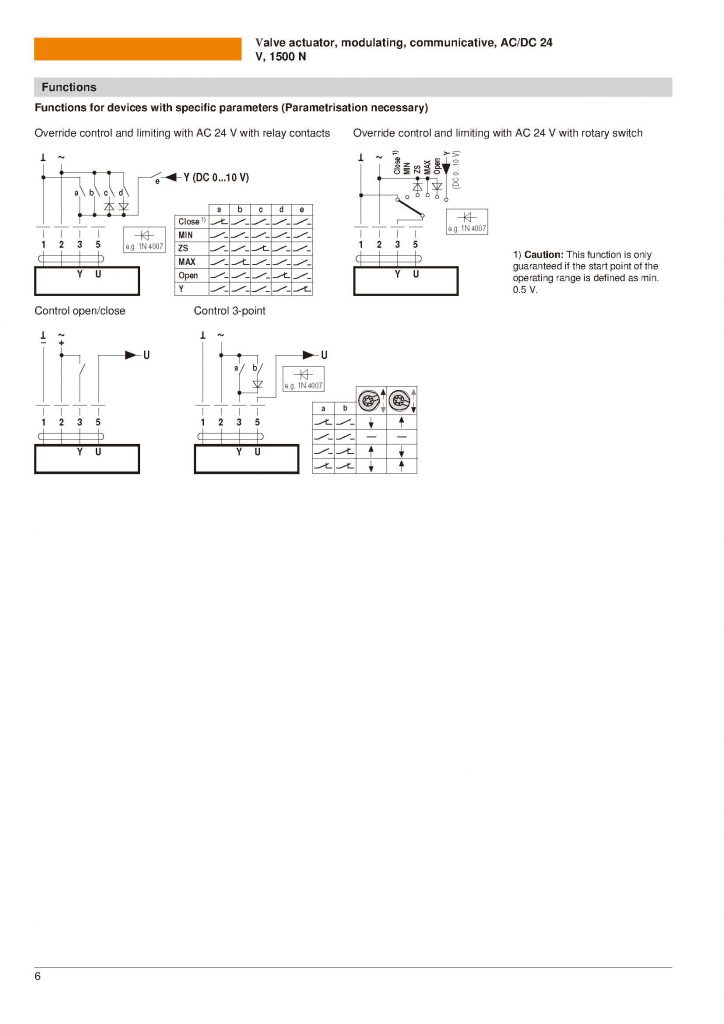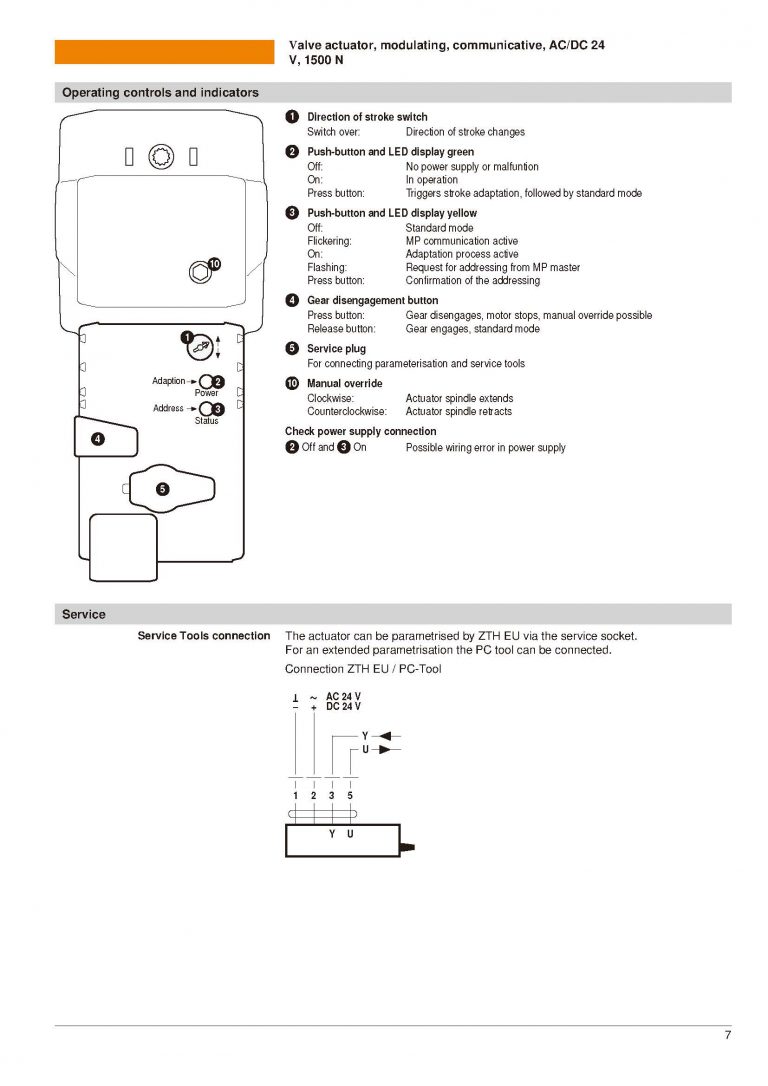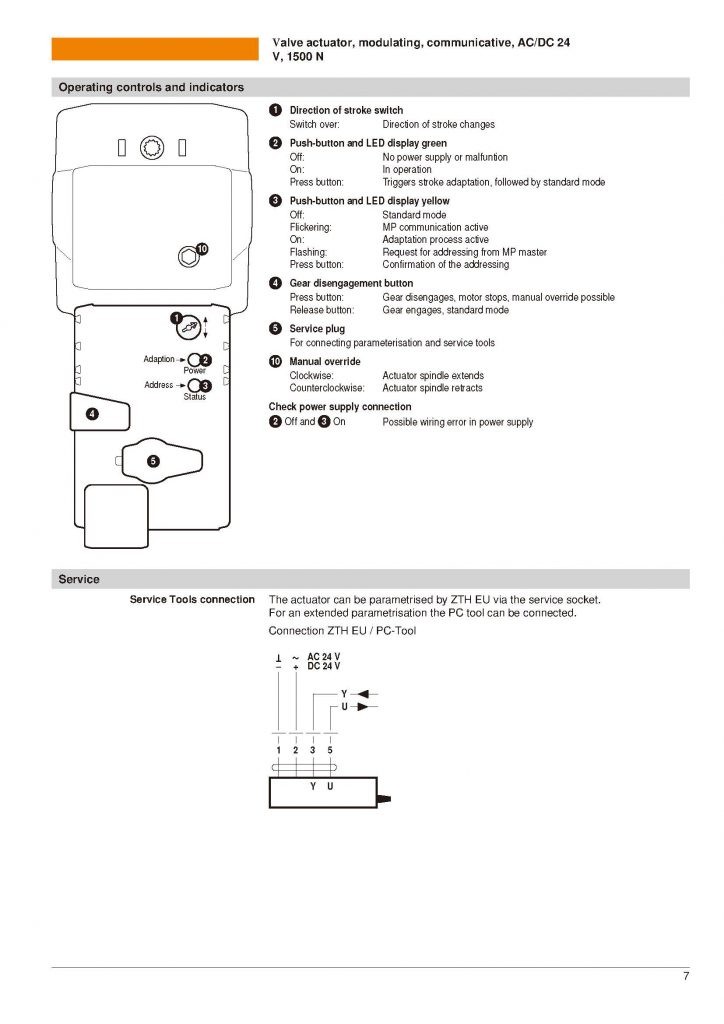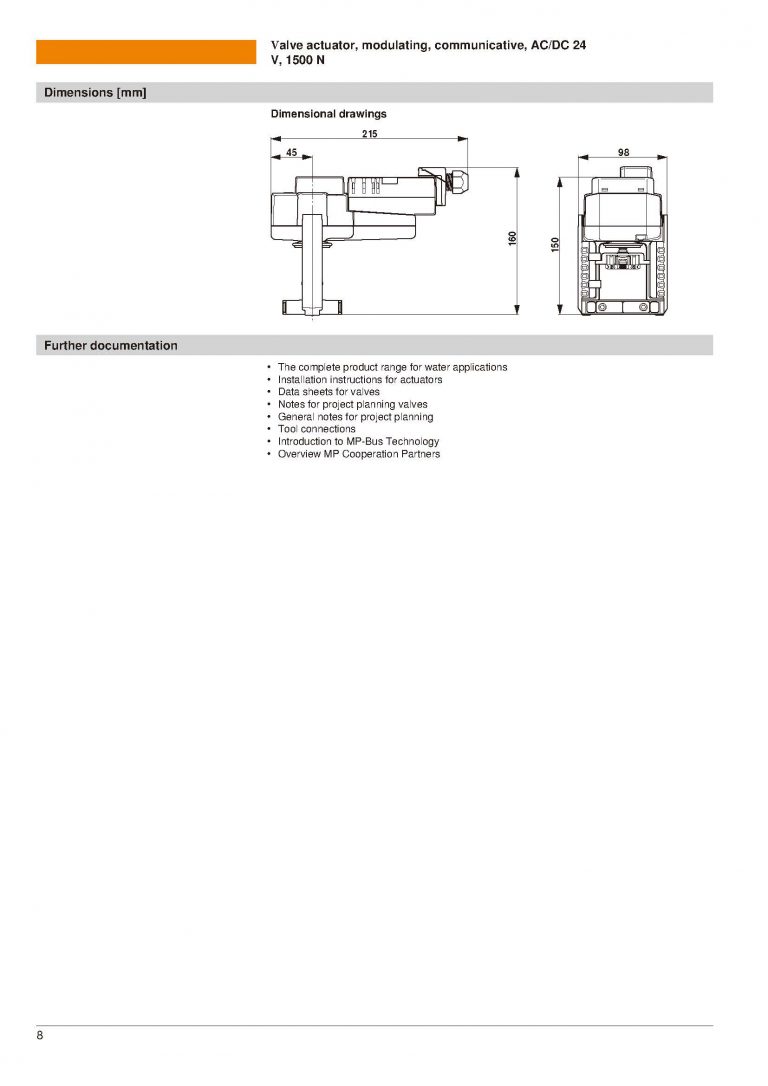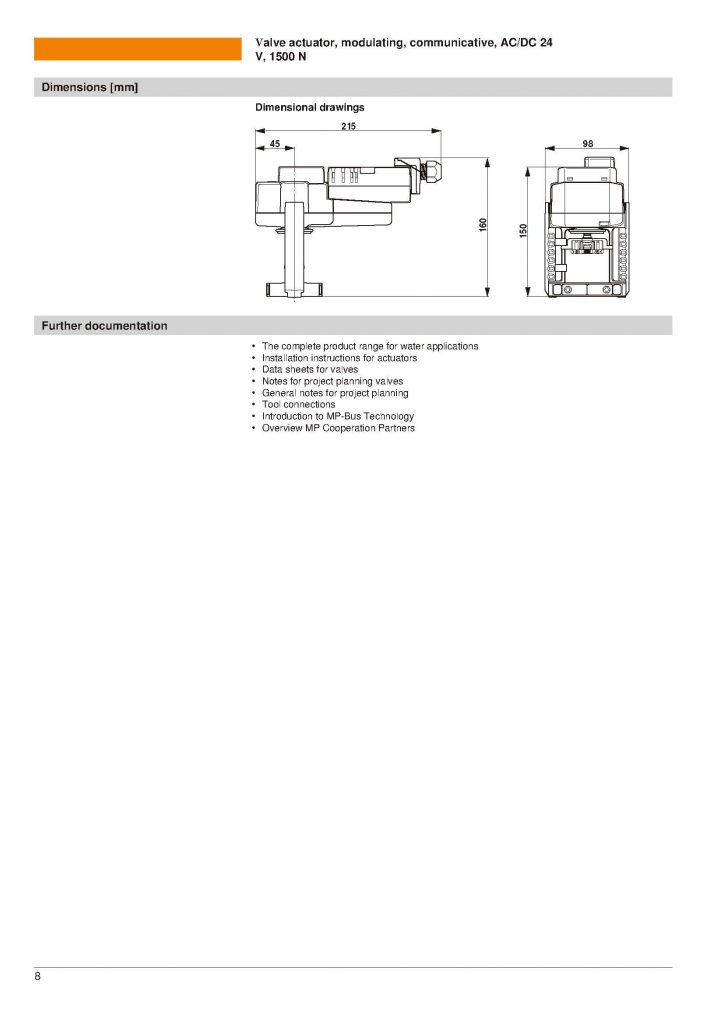 Related products: STAINLESS STEEL PNEUMATIC ACTUATOR, EXPLOSION-PROOF ELECTRIC ACTUATORS