WHERE CAN I FIND THE BEST ELECTRIC ACTUATED BUTTERFLY VALVE MANUFACTURER IN THE USA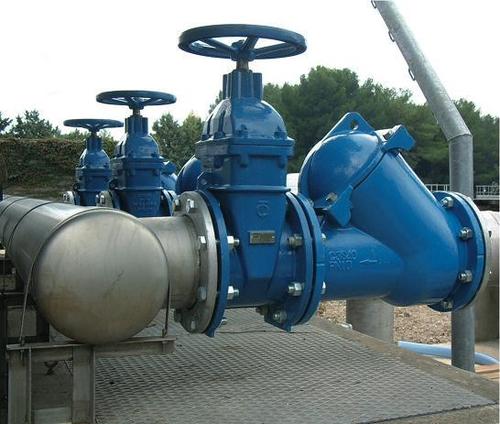 One of the most common and popularly used sanitary fittings is the Valve. A valve is a device or natural object that regulates, directs, or controls the flow of a fluid (water, gases, liquids, fluidized solids, or slurries) by opening, closing, or partially obstructing various passageways.
Valves have many uses, such as domestic uses for controlling water for irrigation, industrial uses for controlling processes, and residential uses such as on/off and pressure control to dish and clothes washers and taps in the home. Valves are also used in the military and transport sectors. Valves are found in virtually every industrial process, including water and sewage processing, mining, power generation, processing of oil, gas, and petroleum, food manufacturing, chemical, and plastic manufacturing, and many other fields. They provide several functions, such as starting or stopping fluid or liquid flow based on the valve state, regulating fluid or liquid flow and pressure within a piping system, controlling the direction of flow within a piping system, throttling flow rates within a piping system, improving safety through relieving pressure or vacuum in a piping system.
The common and popular kinds of valves include but are not limited to Gate Valve, Globe Valve, Check Valve, plug valve, Ball Valve, Butterfly Valve, Actuated valves, Needle Valve, Pinch Valve, Pressure Relief Valve, Air Logic valves, Balancing valves, Line Blind valves, Cartridge valves, Casing valves, Cock valves, Diaphragm valves to mention a few. These valves typically perform the same functions and they serve the same purposes as mentioned above, for starting and stopping liquid or fluid flow and so on. The major difference that differentiates the various types from one another is the mechanism in which they perform their functions. For instance, the gate valve works in a linear motion to achieve its purpose and function likewise is the pinch valve while on the contrary, the ball valve, plug valve likewise the butterfly valve works in a rotary motion.
This article places focus on the electric actuated butterfly valve. As a type of valve. First, the Butterfly valve is a quarter-turn rotational motion valve, it is mainly used to start, regulate, and stop fluid or liquid flow. A butterfly valve controls fluid or liquid flow by using a disk that turns on a diametrical axis inside a pipe or by two semicircular plates hinged on a common spindle, which allows fluid or liquid flow in only one direction. The butterfly valves are made in a short circular body and due to their compact and lightweight design which unlike other types of valves, does not consume space. The Butterfly Valve is suitable as it perfectly fits in large applications and tight space usages. Its key specifications include the port connection, the valve size, and the materials that make up the valve body, further key specifications include its seat, seal, disc, as well as its stem packing. The Butterfly valves are mostly used in wastewater plants, power plants, and process plants for shut-off and for regulating and isolating services. The butterfly valves are especially popular and commonly used in very large diameter pipelines.
Furthermore, actuated valves are also known as automatic valves. These are valves that are often connected to electric motors, air or pneumatic systems, hydraulic systems, or solenoids, these kinds of valves make use of an actuator mechanism or machine to remotely control and automate their functions. Unlike the ordinary and conventional valves that require manual operation, that is, valves that require someone's physical attendance to operate, an actuated valve, on the other hand, does not require such physical attendance to be operated.
Blending all the above together, an electric actuated butterfly valve also known as an electric automatic butterfly valve is a butterfly valve with an electrical mechanical powered valve that starts, regulates, and stops the fluid flow without anyone in physical attendance to operate or control when the valve starts or when the valve stops.  In fact, the electric actuated butterfly valve is a type of butterfly valve that operates itself through an electric valve actuator for controlling its opening and closing. The electrical and mechanical actuator connected to the butterfly valve converts electricity supplied to it in either linear or rotary motion to open and close the lid (disk) of the butterfly valve. The electric actuated butterfly valve has several and numerous advantages over the traditional or conventional manual butterfly valves. For instance, the electric actuated butterfly valves aid the synchronization of multiple line valves, it also helps in remote isolation of fluid or liquid control, and the electric actuated butterfly valve is also desirable due to the safety it provides to prevent any possible misuse. The electric actuated butterfly valve is technologically advanced and easier to use. They can make fluid systems safer and easier to control.
Conclusively, the question now is, where can you get a quality of the above description of valves (electric actuated butterfly valve) in the USA? Adamant Valves manufacture and supply sanitary electric actuated butterfly valves of good quality and standards in different sizes and at competitive prices. Kindly visit our website at https://www.adamantvalves.com/electric-actuated-sanitary-butterfly-valves.html to view our various quality collections and make a purchase. You can also reach out to us via telephone at +1 (949) 407 8897 or send us an email at [email protected]