The Advantages of Ball Valve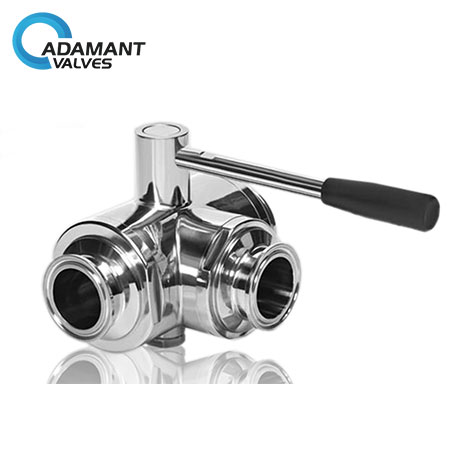 Sanitary Ball valve is evolved from the plug valve, and its opening and closing pieces is a sphere. It uses the ball around the stem axis of rotation 90 °, to achieve open and close. Ball valve in the pipeline is mainly used to cut off, distribute and change the direction of medium flow. Designed as a V-type open ball valve, also has a good flow regulating function. The ball valve not only has the advantages of simple structure and good sealing performance, but also has the advantages of small volume, light weight, less material consumption, small installation size, small driving torque, easy operation and quick gas closing within a certain nominal size range, enabling it one of the fastest growing valve type. The application of ball valves is wide with high temperature, high pressure, large diameter, high sealing, long life, excellent regulatory performance, and a multi-functional direction development. Its reliability and other performance indicators have reached a high level. With the development of the ball valve, it will be more widely used in oil and gas pipelines, oil refining and cracking units, offshore oil and nuclear industries in the foreseeable short period of time.
The advantages of ball valves are as follows:
1. It has the lowest flow resistance.
2. It will not get stuck in the work, and it can be reliably used in corrosive media and low boiling point liquid.
3. It can be completely sealed at high working pressure and temperature range.
4. It can open and close quickly. Its opening and closing time in some structures is only half a second to one second to ensure that it can avoid impact in the test bed automation system.
5. The spherical closure can be automatically positioned in the external position.
6. Double-sided sealing is reliable.
7. When it is fully open and fully closed, the ball with seat sealing surface and the media are isolated. Therefore, high speed through the valve medium will not erode the sealing surface.
8. It is designed as a V-type open ball valve, with good flow adjustment.
9. Its compact size and light weight make it the most rational valve structure for cryogenic media systems.
10. Its body is symmetrical, and especially welder body structure can well withstand the stress from the pipe.
11. Closures can withstand the high pressure differential when closed.