The Comparison Between Ball Valves and Butterfly Valves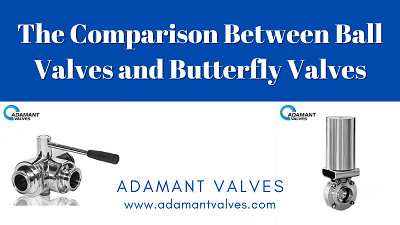 Features of Ball Valves and Butterfly Valves
Ball valves have very little flow resistance because the diameter of the ball's opening is usually equal to the pipeline diameter. In this manner, ball valves have a resistance coefficient similar to that of a pipe section of the same length, allowing the fluid medium to flow through unhindered. Ball valves are easy to operate; they only need to rotate 90° to go from fully open to closed. This quick actuation is why they're often used as emergency shutdown valves. For more in-depth information on how ball valves work, please see this article.
Similarly, the butterfly valve is also in the quarter-turn industrial valve family. Their rapid actuation is equal to that of ball valves.
Instead of a round ball inside, butterfly valves have a flat disc that rotates 90° to open and close. This butterfly disc seals the valve shut when faced perpendicular to the pipeline's flow direction and opens when turned parallel to it. To learn more about how butterfly valves work, please see this article.
Butterfly valves have a fairly simple structure, compact body, lightweight, low material consumption, small installation size, rapid on/off actuation, 90° reciprocating rotation, and low driving torque. They are small enough to be installed in tight areas of existing processing systems that don't have much room to spare.
Comparing Ball Valves and Butterfly Valves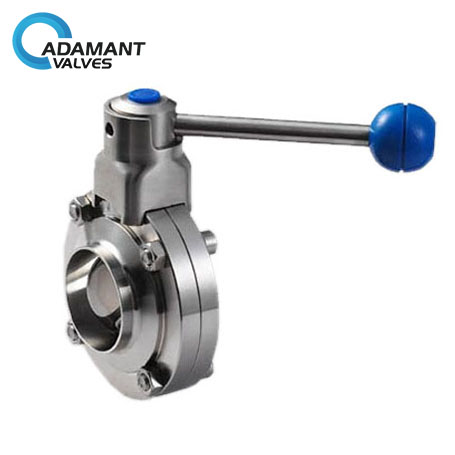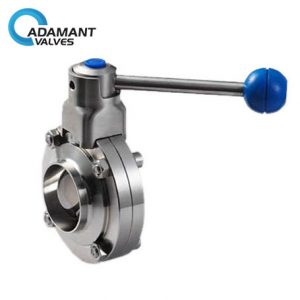 7 Differences Between Butterfly Valves and Ball Valves
1. Sealing Performance
Sealing is the primary criterion for measuring valve quality. Both ball valves and butterfly valves meet the needs of the heating pipe network and will not affect the regular maintenance and repair of the pipe network.
Ball valves generally have better sealing performance than butterfly valves. Ball valves have a more robust sealing framework to meet two-way zero leakage requirements and achieve multiple ANSI classifications. Butterfly valves are typically manufactured to meet the two-way ANSI V standard with no visible leakage. Since ball valves provide superior sealing performance, they are more suitable for applications where avoiding contamination is a priority.
2. Flow Capacity
Ball valves provide better flow capacity than butterfly valves. The butterfly valve plate and valve shaft occupy the center of the flow channel when open, impeding the flow of the medium and causing a substantial pressure drop. Ball valves are better suited for applications where strict flow capacity regulation is a priority.
3. Size and Weight
As for the size and weight, ball valves are typically manufactured with smaller internal diameters below DN300 (DN stands for Diameter Nominal). Smaller diameter pipelines can benefit more from using ball valves because they will not slow down the flow rate. In larger diameter pipe systems above DN300, a loss in flow capacity is not as significant, so butterfly valves will perform sufficiently. In applications above DN300, butterfly valves are lighter and more compact, which can be installed more easily in existing industrial pipelines.
4. Valve Operating Torque
Operating torque refers to the force required to rotate a valve to the on or off position. The operating torque of butterfly valves is usually smaller than that of ball valves. Usually, the butterfly valve has three eccentric metal sealing valves, so its opening and closing torque are minimal. As ball valves increase in diameter, the contact area of the sealing surface rises exponentially, so the opening and closing torque of large diameter ball valves are significantly higher.
5. Applicable Valve Temperature Range
Butterfly valves usually have higher temperature ratings than ball valves and are preferred for high-temperature valve applications. Some butterfly valves have temperature ratings nearly double that of comparable ball valves. In terms of applicable temperatures, ball valves are not suitable for steam mediums and extreme industrial temperatures due to the structure and elasticity of the sealing materials. Butterfly valves are better suited in conventional saturated steam mediums for heating.
6. Valve Service Life
Both ball valves and butterfly valves can have a long service life (more than 15 years of normal use). Non-metallic parts play an essential role in the sealing structure of the ball valve and affect the valve's service life. Butterfly valves generally have a pure metal-to-metal seal, so in general, butterfly valves have a longer service life. Also, stainless steel sanitary valves are built for longer working hours than standard valves.
7. Initial Price Value
For valves with a diameter equal to or less than DN300, ball valves are more cost-effective than butterfly valves. For valves with a diameter above DN300, the price of butterfly valves is more competitive. Butterfly valves are generally easier to manufacture, making them a more economical choice often preferred in large-scale applications.
Choosing Between Butterfly Valves and Ball Valves 
Choosing the best valve for your industrial needs can sometimes be a tricky prospect. It widely depends on the technical applications of your specific project. Adamant Valves is a trusted supplier of ball valves and butterfly valves. If you're uncertain about which valve will best suit your application, please feel free to contact us with all your questions regarding valves.