Six Advantages of Bellows Sealed Shutoff Valves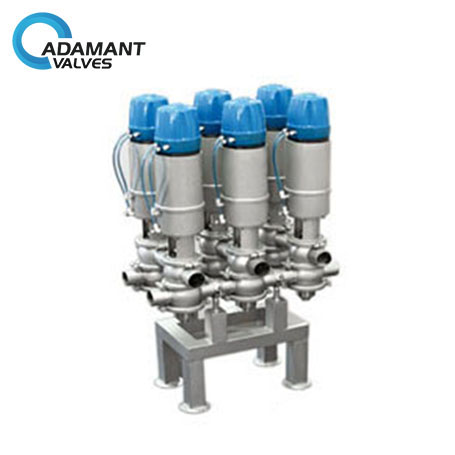 What is a Bellows Sealed Shut-Off Valve?
The bellows-sealed shut-off valve is a highly specialized valve used to control flow rates in many industrial processing systems. It is suitable for various working condition pipelines in petroleum, chemical, pharmaceutical, fertilizer, electric power, and other industries to cut off or connect pipeline mediums.
The critical component of a bellows sealed sanitary shut-off valve—metal bellows—is welded at its lower end with the valve stem component and at the higher end with the connection plate, forming a metal barrier between the fluid medium and the atmosphere to ensure zero leakage of the valve stem. The valve flap and the sealing surface of the valve body undergo precision grinding and a 100% pressure test after assembly to achieve zero leakage. As an auxiliary sealing, the stuffing box remains on the bellows, increasing reliability and safety. The metal bellows of these high-pressure valves are multi-layered structures. Through hydraulic forming, these durable units can be guaranteed to perform at least ten thousand on/off full strokes at maximum pressure.
Six Advantages of Bellows Sealed Shut Off Valves
The bellows seal design eliminates the shortcomings of rapid aging and easy leakage of common valve stem packing seals. It improves energy efficiency, increases the safety of production equipment, reduces maintenance costs and frequency, and provides more outstanding cleanliness and safety, making these valves useful in many industrial working environments.
1. Double sealing design
Sealed by the bellows and packing, if the bellows fail, the stem packing will remain intact and leak-free.
2. Structurally sound
The robust structural integrity provides reliable sealing and excellent leakproof performance.
3. Zero fluid loss
Leak-free performance results in no fluid loss, which reduces energy consumption, promotes environmental friendliness, and improves plant equipment safety for employees.
4. Extra durability
The sealing surface is coated with co-based cemented carbide for wear resistance, corrosion resistance, friction resistance, long service life, reduced maintenance time, and reduced operating costs.
5. Leak-free performance
The sturdy and durable bellows seal design ensures zero leakage of the valve stem and provides maintenance-free conditions.
6. Corrosion & friction resistance
The stop valve stem is quenched and tempered, and the surface is nitridated for superior anti-corrosion and anti-friction properties.
Conclusion — Sanitary Shutoff Valves
These sanitary shutoff valves are pneumatically or manually operated and offered in a wide variety of body configurations. When stopping or diverting flow in a processing system, this series single-seat valve line provides a flexible and reliable solution.
Adamant Valves is a trusted supplier of bellows sealed shutoff valves. We can provide a custom build, or you can choose from our existing inventory of body and disc materials such as AISI 304, AISI 316L, 304L, and 316 materials. Automated or manual operation valves are available according to your needs. 
Thank you for reading our article. We hope it can help you better understand the advantages of bellows sealed shut-off valves. If you want to learn more about sanitary valves, we would like to advise you to visit Adamant Valves for more information.