What are the Advantages of Solenoid Valves?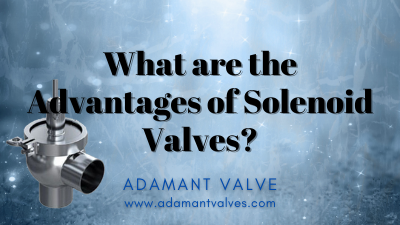 What is a solenoid valve?
A solenoid valve is a type of industrial valve with specialized electro-mechanical controls that regulate the flow of liquids and gases. It is a fundamental automation component belonging to actuators and is not limited to hydraulic and pneumatic uses. In this article, we'll give you an introduction to the advantages and disadvantages of solenoid valves.
What are the advantages of solenoid valves?
As an actuator of the automated instrument, solenoid valves have seen a sharp increase in use in recent years. Below are some of the advantages of using solenoid valves:
1. Plugged External Leakage and Controllable Internal Leakage Provide Safer Operation
Internal and external leakage can threaten the safety of your fluid or gas processing lines and the medium that flows through them. Other self-regulating valves often have stem valves that extend away from the equipment, making a potential point of damage. But solenoid valves have a rotating core controlled by electric, pneumatic, or hydraulic actuators, intended to solve the external leakage problem of valve stem dynamic sealing. Only solenoid valves use electromagnetic force to affect the steel core sealing in the magnet-isolation sleeve, and there's no dynamic sealing, so it's easy to block external leakage. It's not easy to control the torque of the solenoid valve, so internal leakage is prone to happen — even the head of the valve stem can be pulled off. The solenoid valve's structural form makes it easy to control and reduce internal leakage. Solenoid valves are exceptionally safe, and they're suitable for mediums that are corrosive, toxic, and of high or low temperature.
2. Lightweight Responsiveness & Energy-Saving Performance
Solenoid valves have response times as short as several milliseconds. Even the pilot solenoid valve can reach a response time in the tens of milliseconds. Due to self-looping, they're more sensitive than other self-control valves, and the coil power consumption of a well-designed solenoid valve is very low. These energy-saving products can also be configured so that only one needs to trigger an action, and the valve positions are automatically kept. Plus, solenoid valves are small and lightweight, making them easy to install and maintain.
3. Simple Operation with Easy Network Connectivity
The solenoid valve's simple structure is easy to install and maintain compared to other types of actuators such as sanitary regulating valves. What is more significant is that the composition of the automatic control system is much simpler and more cost-effective. As electro-mechanic switch signals control the solenoid valve, it's very convenient to connect it to computers. In today's world, where computer automation is widespread, the advantages of solenoid valves are even more apparent.

What are some disadvantages of solenoids?
1. Restricted Adjustment Accuracy
Solenoid valves usually have only two states: on and off, which means that the valve plug has only two extreme positions and cannot be adjusted continuously. Many new ideas are trying to break through this limitation, but they are still in the trial stage.
2. More Requirements for Flow Media
Solenoid valves have higher requirements for the cleanliness of the medium. For example, a solenoid valve cannot be used for media containing particulate impurities; the impurities must be filtered out first. In addition, solenoid valves cannot be used for viscous media, either.
What are the uses of solenoids?
Solenoid valves are used in pneumatic systems, oil pressure systems, and water pressure systems. Thus, they are welcomed in food, medicine, electronics, and other industries. With continuous technological advancement, the combination of solenoid valves with control, computer, and electronic technology has enabled the solenoid valve system to perform various complex control tasks.
Conclusion
In general, the solenoid valve has robust safety features, high-value performance, and a wide application range. These advantages of solenoid valves enable use in industrial control systems, where they can cooperate with different circuits to achieve the desired control effects. The guaranteed accuracy and flexibility in performance are critical attributes that have made solenoid valves rise sharply in use over recent years. If you're looking for a dependable supplier of quality solenoid valves, look no farther than Adamant Valves.
Adamant Valves is a global sanitary valves manufacturer and valves supplier. It has grown to become one of the leading valves manufacturers for high precision stainless steel sanitary valves, pumps, and pipe fittings.