The Characteristics of V-port Ball Valves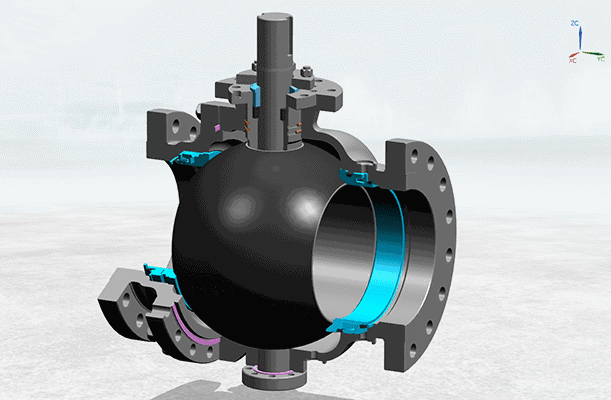 What are the Characteristics of V-port Ball Valves?
1. Integral structure of the sanitary valve body: the structure of folder-type and flange-type V-port sanitary ball valves is both side-mounted. The structure has a robust rigidity and is thus not prone to deformation and leakage.
2. The upper and lower self-lubricating bearings: the upper and lower self-lubricating bearing is installed inside the valve body. It has a big contact area with the valve stem, a high load capacity, a low friction coefficient, and reduces the torque of the valve.
3. According to the need of media and working conditions, the valve seat can have metal hard sealing or PTFE soft-sealing: hard alloy is welded on the surface of metal hard sealing valve seat, hard chromium is plated on the sphere, which can also undergo hardening treatment like spray welding and ion nitriding, which enhance the service life of the sealing surface and the temperature-resistance; soft-sealing PTFE valve seat or enhanced PTFE valve seat has great sealing performance and corrosion resistance and is widely adaptable.
4. Economical and practical: the valve body is light-weighted, the valve stem has a small torque, accompanied pneumatic or electric actuators have small corresponding specifications. Compared with other types of sanitary regulating valves, V-port ball valves are cost-effective.
5. The media is widely adaptable: since there's a shearing force between the V-port opening and valve seat and the flow channel of the valve cavity is smooth and round, making it hard for media to accumulate in the cavity, V-port ball valves are suitable for the control of systems containing fiber and solid particles in addition to being suitable for liquid media.
6. Precise control of small flow: through the processing of a special V-port opening of the small-caliber valve core, precise control of small Cv value can be achieved.
What is a V port ball valve?
A V-Port Ball Valve has either a v-shaped seat or a v-shaped ball. This allows the orifice to be opened and closed in a more controlled manner, with a closer to linear flow characteristic.