AV-5AS Sanitary Pneumatic Angle Seat Valves
Materials
Materials: AISI-316L
Size: 1/2"-2 1/2"
Valve plug and seal: Teflon (PTFE)
Design Features
Size: 1/2", DN15 – DN80
Material: CF8/304, CF8M/316
Connection: Thread, clamp, flange, BSP, BSPT, NPT, DIN, or other upon request.
Working pressure: 8bar, 10bar
Working temperature: 120℃, 180℃
Sanitary Pneumatic Angle Seat Valves Application
AV-5AS pneumatic angle seat valve is a pneumatic valve. It is widely used in food and chemical processes, sterilization machines, high-pressure sterilizers, dry-cleaning machines, clothes dryers, and beer equipment, especially in steam piping systems and production lines.
Sanitary Pneumatic Angle Seat Valves Design Features
Size: 1/2"-3"/ DN15-DN80
Material: AISI 316 / AISI 304
Connection: Thread, clamp, flange, BSP, BSPT, NPT, DIN, or other upon request.
Working pressure: 8bar, 10bar
Working temperature: 120℃, 180℃
Valve plug and seal: Teflon (PTFE)
Sanitary Pneumatic Angle Seat Valves Working Principle
The operating principle of the AS angle seat valve is the same as the check valve. However, the Y-shaped valve body equipped with pneumatic actuator expands the flow cross-section of the valve chamber. This makes the fluid steadier and increases the flow rate by 30%. Meanwhile, the flow direction of the medium is changed, and the smaller pneumatic actuator can be equipped.
Technical Parameters

Steel material
Product wetted steel parts
AISI 316L
Provided with material inspection report
Other steel parts
AISI 304
Seal material
Standard
PTFE
All seal materials comply with FDA 21CFR117.2600
Options
FPM, Silicone, EPDM
Pressure
Working pressure
0 ~ 217psi (0 ~ 15bar)
Supply pressure for air actuator
5 ~ 8bar (70 ~ 116psi)
Temperature
Working temperature
-20 ~ 350°F (PTFE)
Surface treatment
Inside surface treatment
Ra 16 ~ 32µin (0.4 ~ 0.8µm)
Outside surface treatment
Matte
Connection
End connections: threaded, BSP / BSTP / NPT, clamp, flange or other upon request.
Pneumatic head
Normally Closed (NC) – Air to open and spring to close;
Normally Open (NO) – Air to close and spring to open;
Air to Air (AA) – Air to open, air to close.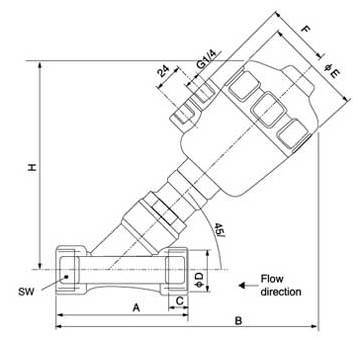 Dimensions (mm)
Size
ΦD

Bore
(mm)

Actuator
(mm)

A

B

C

E

F

H

SW

G1/2
G3/4

13
20

50
50

85
95

173
178

12
12

64
64

44
44

137
145

27
32

G1
G1-1/4

25
32

63
63

105
120

212
255

14
16

80
101

52
60

173
210

41
50

G1-1/2
G2

40
50

63
80

130
150

301
346

18
20

127
153

73
86

260
301

55
70

G2-1/2

65

80

185

372

22

153

86

315

70
Size
ΦD

Bore
(mm)

KV
(m3/h)

Working pressure
(bar)

Control air pressure
(bar)

Actuator
(mm)

Flow direction

NC/NO

G3/8
G1/2

13.0
13.0

3.7
4.2

0-16
0-16

4.0
2.7

40
50

Above the seat
Above the seat

G3/4
G1

20.0
25.0

8.0
19.0

0-16
0-16

2.7
2.0

50
63

Above the seat
Above the seat

G1 1/4
G1 1/2

32.0
40.0

27.5
42.0

0-16
0-16

2.0
2.0

63
63

Above the seat
Above the seat

G2
G2 1/2

50.0
65.0

52.0
77.0

0-16
0-14

2.0
1.6

63
80

Above the seat
Above the seat
| | |
| --- | --- |
| PDF | /wp-content/uploads/2016/01/AV-5AS-Angle-Seat-Valve.pdf |