AV-25FD Flanged Diverting Valves
Valve Type: Ball
Seal Material: PTFE Plastic
For Use With: Air, Argon, Helium, Krypton, Neon, Oil, Water, Xenon
Max. Pressure:
Steel Body: 150 psi @ 400℉
316 Stainless Steel Body: 275 psi @ 100℉
Temp. Range:
Steel Body: -20 to 400 ℉
316 Stainless Steel Body: 0 to 340 ℉
Flow Pattern: L-Pattern
Flanged Diverting Valves Description
Bolt these valves to flanges to divert flow between ports in flanged pipelines. Any port can be used as an inlet or an outlet. Turn the handle to direct flow from the inlet port to either outlet port. Valves cannot shut off flow.
316 stainless steel valves are more corrosion resistant than carbon steel valves.
Full-port valves do not restrict flow.
Standard-port valves slightly restrict flow.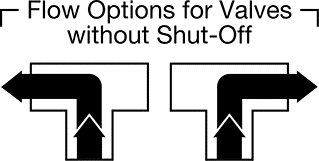 Flanged Diverting Valves Specifications
Pipe Size
Flow Pattern
Port Type
Pressure Class
Flange OD
Flow Coefficient (Cv)
Max. Pressure
Temp. Range, ℉
End-to-End Lg.
Steel Body-Flanged x Flanged x Flanged
2
L-Pattern
Full
150
6"
90
150 psi @ 400° F
-20 to 400
8 11/16"
3
L-Pattern
Full
150
7 1/2"
211
150 psi @ 400° F
-20 to 400
11 1/4"
4
L-Pattern
Full
150
9"
386
150 psi @ 400° F
-20 to 400
13 11/16"
316 Stainless Steel Body-Flanged x Flanged x Flanged
2
L-Pattern
Standard
150
6"
133.4
275 psi @ 100° F
0 to 340
10 1/2"
3
L-Pattern
Standard
150
7 1/2"
313.2
275 psi @ 100° F
0 to 340
13 3/8"
4
L-Pattern
Standard
150
9"
504.6
275 psi @ 100° F
0 to 340
15 1/4"
Related products: AV-5MS Sanitary Manual Shutoff And Divert Valves, AV-5SS SANITARY SHUTOFF AND DIVERT VALVES, AV-2MFC3 SANITARY STAINLESS STEEL 3-WAY BALL VALVE WITH TRI-CLAMP ENDS, MANUAL TYPE, Diverting Valves with Fire-Fighting Hose Fittings