AV-25MT Multiport Threaded Diverting Valves
Valve Type: Plug
Seal Material: Fluoroelastomer Rubber
For Use With: Air, Argon, Helium, Krypton, Neon, Oil, Water, Xenon
Max. Pressure: 250 psi @ 70 ℉
Temp. Range: -60 to 400 ℉
Multiport Threaded Diverting Valves Description
Divert the flow of compressed air and other media to multiple pieces of equipment. Turn the handle to direct flow to multiple outlet ports. Valves cannot shut off flow.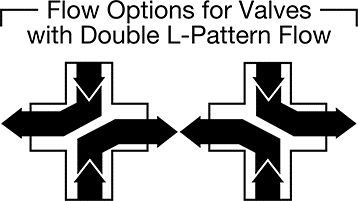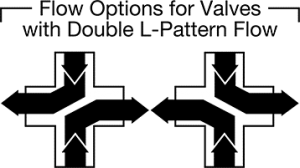 Valves with Double L-pattern flow have two separate flow paths.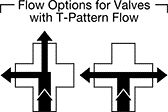 Valves with T-pattern flow direct flow from the inlet port to two of the three outlet ports at reduced capacity.
Multiport Threaded Diverting Valves Specifications
Pipe Size
Max. Pressure
Temp. Range, ℉
End-to-End Lg.
NPT Female × NPT Female × NPT Female × NPT Female
1/4
250 psi @ 70℉
-60 to 400
1 7/8"
Related products: AV-5MS Sanitary Manual Shutoff And Divert Valves, AV-5SS SANITARY SHUTOFF AND DIVERT VALVES, AV-2MFC3 SANITARY STAINLESS STEEL 3-WAY BALL VALVE WITH TRI-CLAMP ENDS, MANUAL TYPE, Diverting Valves with Fire-Fighting Hose Fittings