7 Key Features of Tie Rod Welded Ball Valves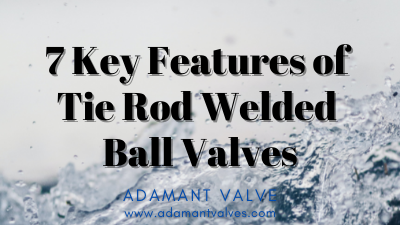 Tie rod welded ball valves are commonly used in pipeline systems to provide on and off flow control. Welded ball valves are used in many industries, such as petroleum refining, long-distance pipelines, chemicals, papermaking, pharmaceuticals, water conservancy, electric power, municipal administration, steel and others. Want to know why ball valves are essential components of fluid and gas systems? We'll answer all your questions about different types of ball valves, and also learn the 7 key features of tie rod welded ball valves.
What Are Sanitary Ball Valves?
The sanitary ball valve gets its name from the opening and closing components, which are spheres. When in use, the ball's opening and closing mechanism is driven by the valve stem and rotates around the axis of the ball valve. A multi-way ball valve not only provides flexible control of confluence, divergence, and flow direction of the medium in the pipeline, but can also close any channel and connect the other two channels.
Ball valves can be categorized by their driving mode, of which there are three different types: pneumatic ball valves, electric ball valves, manual ball valves.
Do Ball Valves Reduce Flow?
Most ball valves are designed with a full bore or "full port," which provides a direct linear flow path without reducing flow through the valve. There is no change in the piping's internal diameter, so the flow rate remains constant.
Do Ball Valves Have a Flow Direction?
Ball valves do not have a specific flow direction because the stopping mechanism is a round ball that creates a symmetrical seal within the pipeline. If you're unsure about your specific valve's flow direction, check the valve for an arrow indicator on the valve body. If your valve doesn't have an arrow, the general convention is to install most valves so that the on/off handle points in the flow direction when in the on position. In the off position, the handle should be oriented perpendicular to the flow direction.
Key Features of Tie Rod Welded Ball Valves
1. Leak-free welded ball valve structure
Sealing is one of the most important standards to measure the quality of valves. Since tie rod welded ball valves are integrally welded to create a tight seal, there is no external leakage.
2. Adaptable valve seat with PTFE seal ring and spring 
The PTFE seal ring and spring make it adaptable to changes in pressure and temperature to prevent leakage from the normal scope of use.
3. Valve stem with PTFE self-sealing gaskets and O-rings
Gaskets and seals are placed on the valve stem to further reinforce the leak-free performance. There is one PTFE self-sealing gasket and one O-shaped seal ring at the bottom of the valve stem. Plus, there are two O-shaped seal rings and two PTFE gaskets at the top of the valve stem, which ensures there will be no leakage.
4. Uniform construction of the valve body and pipe
The valve body and pipeline are constructed with the same materials, so the valve will keep an even pressure distribution. This also protects against deformation caused by earthquakes and ground vibrations from passing vehicles.
5. Lightweight sanitary valve body
Lightweight valves occupy less space and are more convenient to install and use. They're more cost-effective and easier to replace than more robust valves.
6. Ball valves can be buried directly underground. 
There'll be no need to build a deep valve well. Installing a ball valve only requires a small shallow well on the ground, saving significant construction costs.
7. Sanitary ball valves with adjustable body and stem height
The length of the valve body and the height of the valve stem are adjustable to various uses and positions. Tie rod welded sanitary ball valves have very competitive performance features and functional values. Under normal use, most have an expected lifetime of up to 20 years. 
Conclusion
Thank you for reading our article and we hope it can help you better understand the key features of tie rod welded ball valves. If you want to learn more about sanitary ball valves, we would like to advise you to visit Adamant Valve homepage for more information.