AV-2PFC Sanitary Ball Valves with Tri-clamp Ends, Pneumatic Type
Specification
| | |
| --- | --- |
| Type | Ball Valve |
| Reference No. | AV-2PFC |
| Sizes | 1/2″ to  4″ (1/2″, 3/4″, 1", 1 1/2″, 2″, 2 1/2″, 3″, 4″) |
| Diameter Nominal | DN15 to DN100 (DN15, DN20, DN25, DN40, DN50, DN65, DN80, DN100) |
| Valve material | AISI 304 or AISI 316L |
| Valve seat | Teflon (PTFE) |
| Max. working pressure | 145psi (10bar) |
| Temperature range | -4 ~ 302°F (-20 ~ 150°C), -22 ~ 392°F (-30 ~ 200°C) option |
| End connections | tri-clamp, others available upon request |
| Actuator | 304 material, vertical type, NC/NO/AA type for choose from |
| Surface treatment | Ra 16 ~ 32µin (0.4 ~ 0.8µm), Ra 32µin is the default |
| Air supply pressure | 70-116psi (5-8bar) |
Description
Full Port Tri clamp ball valves are made from stainless steel SS304 or SS316, and offer full port, unobstructed flow. A ball valve is often placed on the end of CIP piping. Our ball valves are available in standard or 3-piece encapsulated. Our standard ball valves can handle 250 PSI, while the encapsulated models are rated up to 1000 WOG. All valve handles swing out from the center, and encapsulated models allow locking of the handle.
Application
AV-2PFC series is a pneumatic type sanitary ball valve with tri-clamp / tri-clamp ends, which is extensively used in food & beverage processing, brewing, oil refinery, cosmetic, pharmaceutical, and chemical industries to control medium flow. The full port design with zero restriction makes it an optimum choice for viscous and particulate liquids, AV-2PFC ball valve operates automatically by actuators.
Specification
| | |
| --- | --- |
| Type | Ball Valve |
| Reference No. | AV-2PFC |
| Sizes | 1/2″ to  4″ (1/2″, 3/4″, 1", 1 1/2″, 2″, 2 1/2″, 3″, 4″) |
| Diameter Nominal | DN15 to DN100 (DN15, DN20, DN25, DN40, DN50, DN65, DN80, DN100) |
| Valve material | AISI 304 or AISI 316L |
| Valve seat | Teflon (PTFE) |
| Max. working pressure | 145psi (10bar) |
| Temperature range | -4 ~ 302°F (-20 ~ 150°C), -22 ~ 392°F (-30 ~ 200°C) option |
| End connections | tri-clamp, others available upon request |
| Actuator | 304 material, vertical type, NC/NO/AA type for choose from |
| Surface treatment | Ra 16 ~ 32µin (0.4 ~ 0.8µm), Ra 32µin is the default |
| Air supply pressure | 70-116psi (5-8bar) |
Options
End connection can be butt-welded, sanitary tri-clamp, threaded, flanged, I-line or others upon request.
Valve body can be three-way: T type or L type ball core for choose from
Valve body can be with or without purge ports for SIP / CIP.
Actuators to reach automatic operation: pneumatic stainless steel actuator (vertical type), pneumatic aluminum actuator (horizontal type), and electric actuator.
NC operated: normally closed (fail closed)—air to open, spring to close
NO operated: normally open (fail open)—air to close, spring to open
AA operated: double acting—air to open, air to close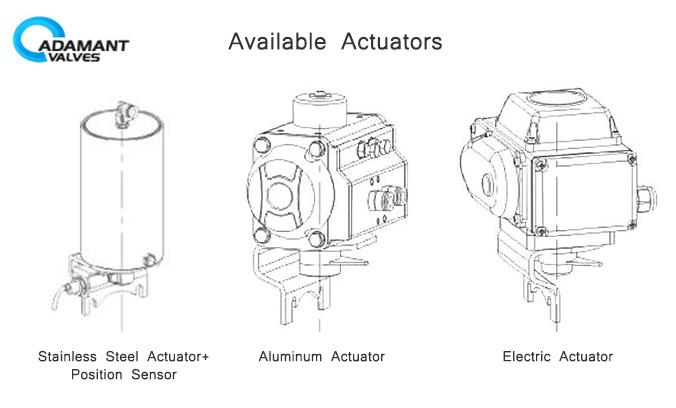 Valve intelligent control: position sensor, C-top controller, C-top controller (AS-I)
Design Features
Maintenance free operation
Compact and portable
Small operating torque
Valve seals and gaskets comply with FDA 177.2600
Manual handle, pneumatic actuator, electric actuator are interchangeable.
Technical Parameters
Steel material
Product wetted steel parts
AISI 304 or 316L

(1.4306 / 1.4404)

Provided with material inspection report
Other steel parts
AISI 304
Seal material
Standard
Teflon (PTFE)
All seal materials comply with FDA 21CFR117.2600
Options
NA
Pressure
Working pressure
≤145psi (10bar)
Supply pressure for air actuator
70 ~ 116psi (5 ~ 8bar)
Temperature
Working temperature
-4 ~ 302°F (-20 ~ 150°C), -22 ~ 392°F (-30 ~ 200°C) option.
Surface treatment
Inside surface treatment
Ra 16 ~ 32µin (0.4 ~ 0.8µm)
Outside surface treatment
Ra 32 ~ 64µin (0.8 ~ 1.6µm)
Connection
End connections can be butt-welded, sanitary clamp, male and female threaded, flanged, I-line or others upon request.
Actuator
Normally Closed (NC) – Air to open and spring to close;

Normally Open (NO) – Air to close and spring to open;

Air to Air (AA) – Air to open, air to close.
Related Products:
| | |
| --- | --- |
| PDF | /wp-content/uploads/2016/01/AV-2-Sanitary-Ball-Valves.pdf |